On 17th October, I reached the "Yogi" milestone in Black Lotus (YAY!!! 😊). To cross this milestone, one needs:
·        15000 Reflect Points (earned by Meditation and Chanting)
·        15000 Act Points (earned by Breathwork, Acts of Kindness, Mindfulness Activities and Gratitude)
·        1750 Reinforce Points (earned by reading and watching Wisdom content)
·        7500 Evaluate points (earned by Daily Evaluation)
I thought considerably before deciding to share this post. The issue is, it is difficult to write about one's journey without a bit of pride and self-aggrandizement. So, let me start by moving that out of the way by saying – I know I've been doing a GOOD JOB (pat on my back 🤩). Read on to know why 😌.
Here are my statistics on 17-Oct-2021.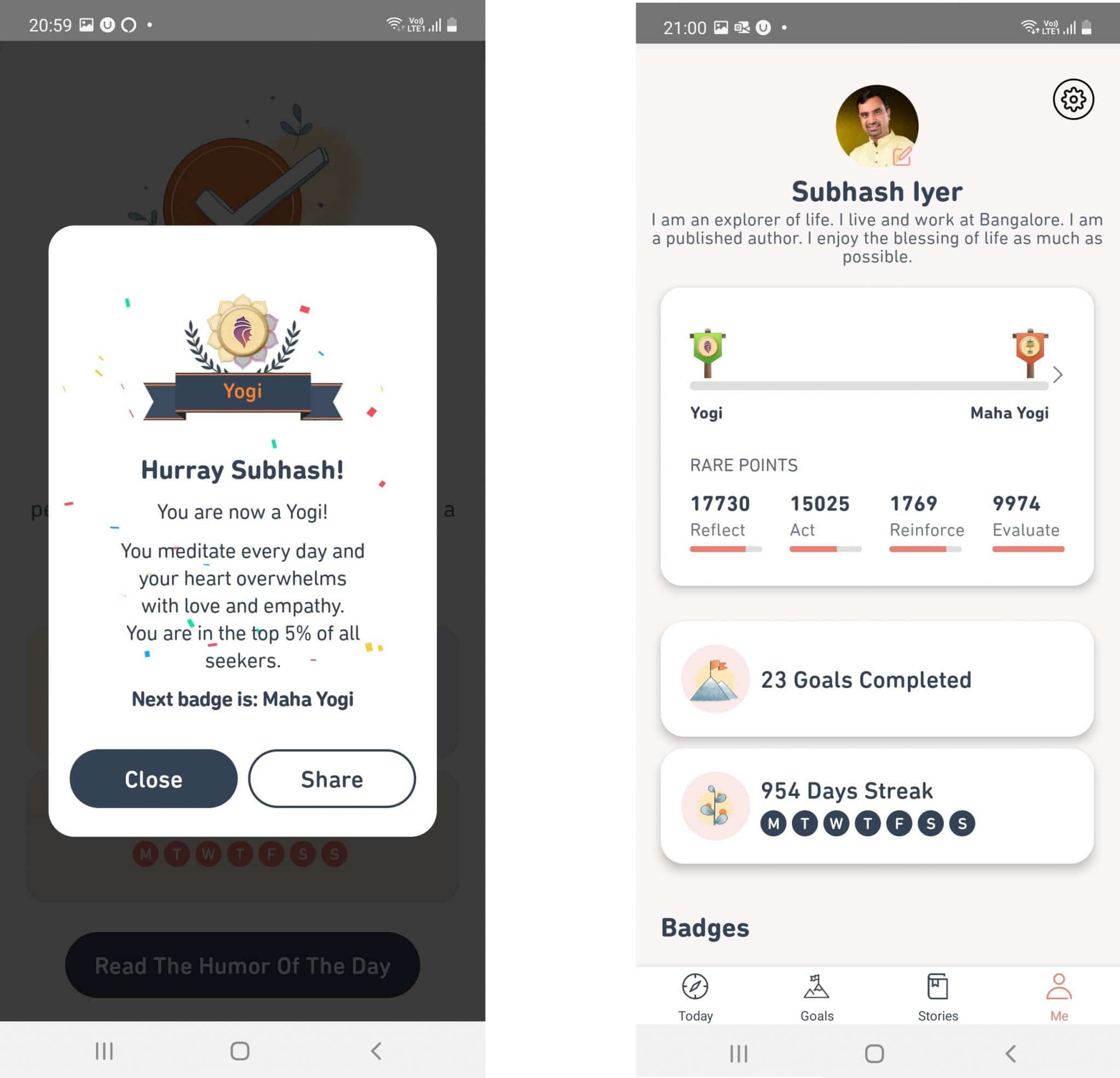 With the self-praise put aside, the purpose of writing this post is to:
a)      Consolidate my thoughts
b)     Seek the stories of others for my further learning, and
c)      Possibly motivate someone on the Black Lotus path.
Below are some notable aspects and learnings from my Black Lotus Journey So Far:
Bringing the Mind to Stillness is No Easy Task:
I am still nowhere near being able to still the mind. After 15000 minutes (250 hours) of practice, I can but keep my mind still for a couple of minutes at a go. But those couple of minutes give a peek into what awaits if the mind is no more the master.
My daily practice covers 1 Guided Meditation and around 10 minutes of Silent Meditation (time subject to laziness 😋). That's about the time I am able to earmark. Some time back, I started trying longer sessions of weekends and the longest was around 50 minutes. The session wasn't "blissful" or anything that can be called "intense". It was just as assertion that I can sit in a spot for that duration (on a chair and not even cross-legged – my legs hurt beyond 30 minutes).
My attempt is to touch 60 minutes plus – at least sitting in 1 spot. Keeping the mind focused during that time would come next. Yet, there is a contentment is being able to do whatever little I can.
It is Easier to Meditate than be Kind:
While Reflect points get added for every minute of meditation (whether good or bad), Act points don't some in so easily. Apart from the points earned from Breathwork, one needs to earn the larger numbers by RAKs.
And this is my greatest learning – to be aware of opportunities where one can be kind has been the best thing Black Lotus brought into my life. I wrote about this here earlier (The Universe Conspires for you if you'd like to Practise Kindness). Black Lotus has brought in an awareness towards others rather than being centered around myself. Other stories I wrote about kindness are here (That Day I Lived On)
Observing others' Kindness:
Another major learning has been to be mindful to observe others' kind acts. This was an activity in the "Live Like a Champion" Goal Pack and I found it greatly influential. It motivated me to share a few RAK stories done by others on the Black Lotus app.
If the favorite learning on my path has to mentioned – it is this – being aware of the good that people are doing around us; and patience to deal with the rest.
Mindful Activities:
The day's mindful activities and the Mindfulness Nudge are another major influencer. They help me remember to be calm, poised and happy during the day apart from just the time spent in meditation. Specific ones like mindful walking, mindful listening, decluttering and mindful eating are too good to miss. They serve as a much-required reminder to slow down during the day. A specific advantage has been the ability to reduce distracting social media time. My experience is chronicled here. (Yes! I Finally Uninstalled Facebook).
Health Consciousness:
A sound mind in a sound body – this realization has set in from my practice. If I have to sit still in a place for an hour, the body must support it. As of now, it's a lot about leg aches, numbness, knee discomfort. One good thing Black Lotus has brought into my life is physical exercise. While my current exercise regimen needs more improvement, I do know I should keep my body fit if my mind has to focus and meditate. Another awareness that has set in is of posture. After 15 to 20 minutes of sitting upright during meditation, I feel the need to keep a good posture during the day. I see myself setting my back straight when it slouches (a habit that comes in while working on the PC for most of the day).
Mindful Eating:
Black Lotus has for sure inculcated the practice of mindful eating. I don't say I have perfected the practice or that I eat mindfully all the time. But things that I am practicing on a daily basis are (1) slowed down the speed of eating (2) keeping away the phone from the dining table (3) saying a prayer before food. I had written about it here (An Effective Eating Practice). These are wonderful methods brought in by Black Lotus to lead a calm day and make the best out our energy input – food.
Other changes I can see and try to practice during the day include – sitting still, still gaze and awareness of breath. Not to forget – remembering to laugh everyday (more at oneself than others 😂). Here is an amusing anecdote (The Price of Pizza).
I had written about Spirituality of a Common Man here (A Common Person's Spirituality). If there is an app which can help a person practice spirituality in daily life, Black Lotus is it. It is transformational!
Oh Yes! Transformation is not sudden. It's so gradual, one hardly knows it (look at my stats – 954 days streak and just an iota of change so far). Yet transformation does happen – just like seed germinates into a plant and grows to a tree bearing flowers and fruits, slowly, gradually, steadily. It happens a little every day.
Many thanks to Om Swamiji and the Black Lotus team for this app. Saying thanks in a single line is understating the enormity of the contribution of Swamiji and Black Lotus but that's about as much words can take me. 🙏
---