Jai Shri Radhey Shyam!
Hello, family, hope you all are doing well and I hope you all had a great Janmasthami with your Krishna, the one who's Jagatguru ("Vande Krishnam Jagatgurum"), the one who's love, who's the source of Divine Love.
Well, at first I thought why share my earnings? I'm not earning much, but yes, I'm not earning less (I'm earning your love).
When I joined os.me family in January 2021, I was unaware of these karma points. After two or three days when I read about this, I was surprised because I thought of writing here as my hobby and getting such beautiful blogs from you lovely people, not of earning.
When the first Saturday of February came, I earned about ₹ 2600. For a college student like me who's getting a scholarship and is from a middle-class family, it was a moment to celebrate. But it doesn't stop here, I received the support of about ₹4000, after which I had around ₹6600. And you would not believe I have been planning on visiting Vrindavan since November, but my savings are not much. But Hari's plans are different.
So with this money, I booked my ticket for Vrindavan and I visited Vrindavan at the end of February and came back at the start of May. This money was sufficient for my travel fare and food, but what about sadhu seva?
I was thinking of this and crying because I was not able to do seva of Saints, cows, animals, needy ones. I don't know if you will believe it or not, the scholarship which I get in the mid of March every year, I got at the end of February, the day before leaving for Vrindavan. I got ₹24000 scholarship.
Now I had ₹30000 and my family knows nothing about it. When I told them I wanted to go to Vrindavan, they said no. And they said there was some financial problem, and I should go next month. Then I said I have arranged everything. They refused to allow me, but I cried.
My father, who worked in Dwarka, Gujarat, for 6 years, used to visit Dwarkadheesh's temple every morning and from this, he got attached to Krishna.
My father asked me why you want to visit Vrindavan alone, it's not safe for a teenager like you to travel alone to such a big place, you visited last year, so why you are asking to visit this year?
I said crying: "Kyaa Aapko Dwarkadheesh ki yaad nahi aati (Don't you miss Dwarkadheesh)?"
Don't know what happened he asked me, "Which train have you booked? What are the timings, give me details."
He allowed me. Maybe he understood my situation why I want to visit Vrindavan.
So I went to Vrindavan and spent all ₹30000 and I was so happy.
After this, I earned money from os.me and made a withdrawal in July 2021 for Janmasthami shopping.
This time I bought 2 meter cloth, some laces for stitching a dress, some jewellery, some other accessories.
Here I'm sharing a pic of my Janmasthami's preparations and Janmasthami.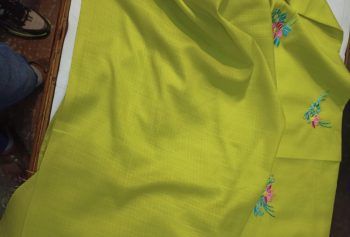 I brought this piece of cloth from the market.
And then I stitched dresses for my beloved deities.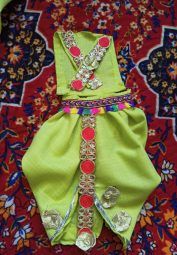 My big Krishna's Dhoti and choli stitched by me.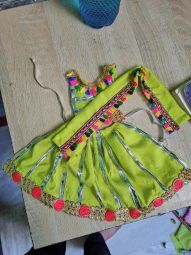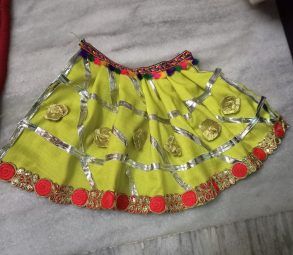 This is the lehnga-choli for Shrimati Radha Rani and Maa.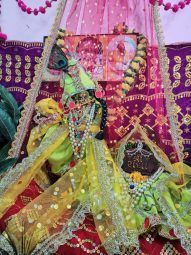 My Krishna With a Wooden Radha Name on the left side, it's in our parampara to meditate on Radha name so that's why we don't have an idol of Shrimati RadhaRani. More to be clear on the left, Radha Rani is in our Guru form, and Radha Krishna is Yugal so we worship Radha and Krishna in one idol only.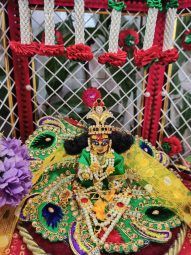 Here is our Bal krishna, I didn't stitch this dress…..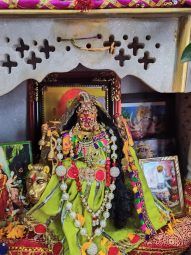 And here is my Maa's Darshans…
I hope I didn't bore you, but it's my gratitude to os.me and a report showing where I used my earnings…
I'm waiting for the upcoming month so that I'll reach the limit and make a withdrawal of 1500, I have to return this to my brother. I borrowed this money from this month, I met with an accident and I have to give this to the other driver after we split the bill. Thank you os.me for everything.
Thankyou family…
---