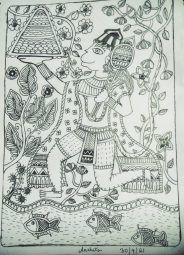 ~ My Faith ~
You are the Monkey God , my superman,
I offer you my prayers , Oh lord!
Epitome of strength you are Lord Hanuman.
You taught us what devotion is,
And what is the price of friendship.
As days goes by my devotion for you grows,
   Accept me as your little devotee
  For I rest my thoughts only in you.
 I am completely absorbed in your divinity.
 Oh lord, protect me!
When it is the night, and all is dark,
When all my fears collide,
I think about you, your mighty form,
There is none equal to you in power;
Oh Monkey God! give me courage and strength.
I turn my fears over to you, Engulf me in your warmth,
And help me to fall into my slumber,
Into a place where I have nothing to worry about.
Be my guiding star, don't leave me all astray.
Help me to find a way,
In this mighty world of turbulence.
Help me to find my own dharma;
I know you will fight for the good.
For you, one who is kind and loves is divine.
May I always live in your devotion.
Oh my lord, bless me!
You gave me faith and taught me the lesson of friendship.
With love and respect, I bow to you and worship. 
~ Anchita 
P.S. – I wrote this poem for the 'poetry-writing competition' during the Zenrich workshop , which I have mentioned in my earlier posts.( Do check them out ;)) This is my very first poem, in which with my little poetic intelligence I tried to portray my prayers to Hanuman.  Thank you so much for reading my poem!🤗
---