I painted and wrote this back in 2019, inspired by a psychologist during my therapy to come out of a bad phase of depression. I never knew that I can write something; painting was my hobby from childhood but that was also lost in the so-called drama of life; has resurfaced bit by bit … 🙂
Swamiji's wisdoms, youtube videos and specially the Books played a major role in my endless learning (though it is just the beginning), moving my soul towards light from darkness. With a childish heart, shy me, thought this is the right forum to share this – my first writing with a little abstract painting going public.  🙏 
Here you go: ——————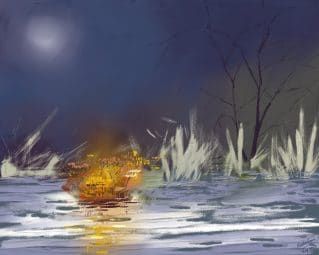 THE LIGHT. There is always light, somewhere, in some form, in some sense, in some way; we just need to see it.
Even in dark, even when the real things look blurred like the moon in the painting, be sure that there is still light. See it. Try to sense it. The light of peace, the light of happiness is always out there, we just need to drive our emotions the right way to find it.
When the moon looks blurred, you know for sure that it is temporary. Then when you know it's temporary, add your own light of imagination to fill the emptiness. And sense that this light has Independence, it can be of any shape or form of your wish. No rules, no boundaries. Create it the way you want, anywhere, anytime. Feel it, sense it, love it … it's blissful … it's yours, it's your soul …
It's YOU, THE LIGHT.
🙏 🙏 🙏 
---