ॐ नमः शिवाय
Om Namah Shivay
We covered Part 1 here.
Day 2 – June 13th, 2018
Next day morning we were the last batch to head to the Nepalgunj airport, by around 7 AM. We were not in a rush and let few more proceed ahead of us if they wanted. The airport had mainly mountain plane flights, which were a 16 seater plan. The airport was crowded and seemed much closer to a bigger sized bus stand or a very small airport.  Luggage was tagged, but on the floor next to the airline counters. We all had similar bags and the only thing different was our unique number in the group, pasted on the bag, and like our roll numbers this was used for all things.
Since each plane could only take 16 passengers, it meant our group required to be in at least 5 different flights to be able to get to Simikot.  Luckily the flights were running smoothly, and so our group in was taking the flights, one batch at a time. Hence, we had to wait for some time before boarding.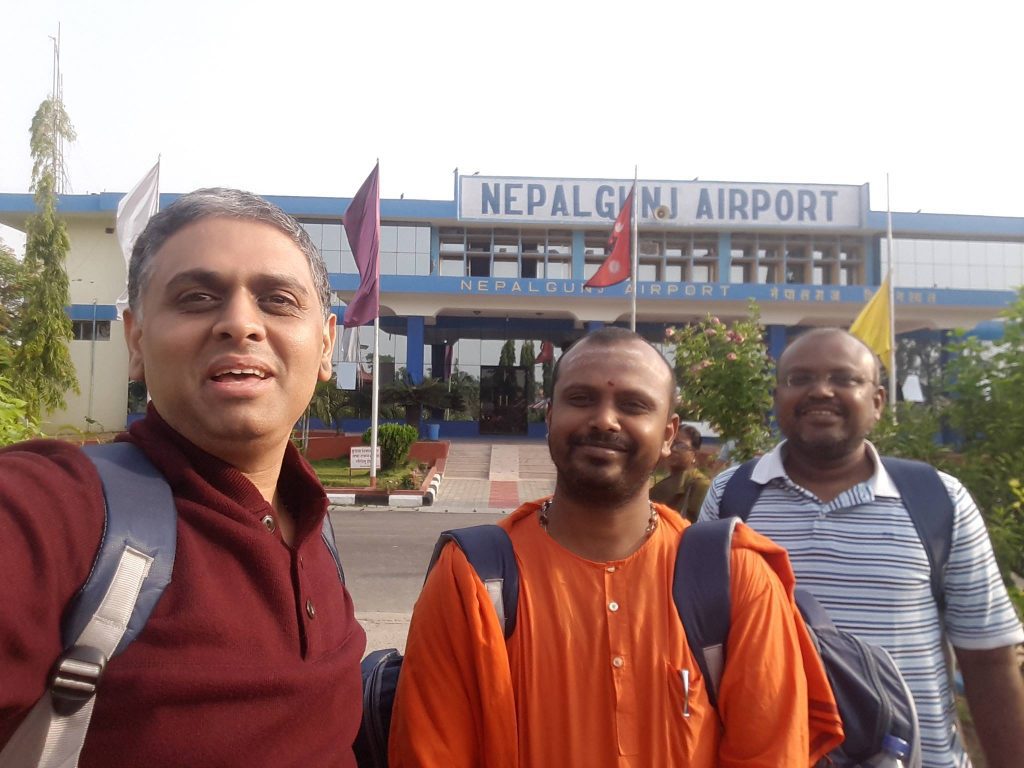 We reached Simikot, at about 10:30 AM, and the flight was a short 45 minute flight. It was a scenic flight amidst the hills all along. Simikot is a breathtaking hill station at a height of 9,250 feet.  We started to feel the difference in weather,  and we had moved from 35 degrees to 8 degrees in temperature, and with thinner oxygen level.
Adjacent to the airport there was an helipad, which allowed for helicopters to take off and land. Next we were headed to Hilsa, which is at 12,000 feet, and a border town with Tibet.  The helicopters could take only 5 passengers, and so about 14 trips were needed to get all 70 people. The airport at Simikot was an open place, with no provision for water, or any kind of food.  One had to go outside, to get something, but since we had carried something with us to eat, it came in handy.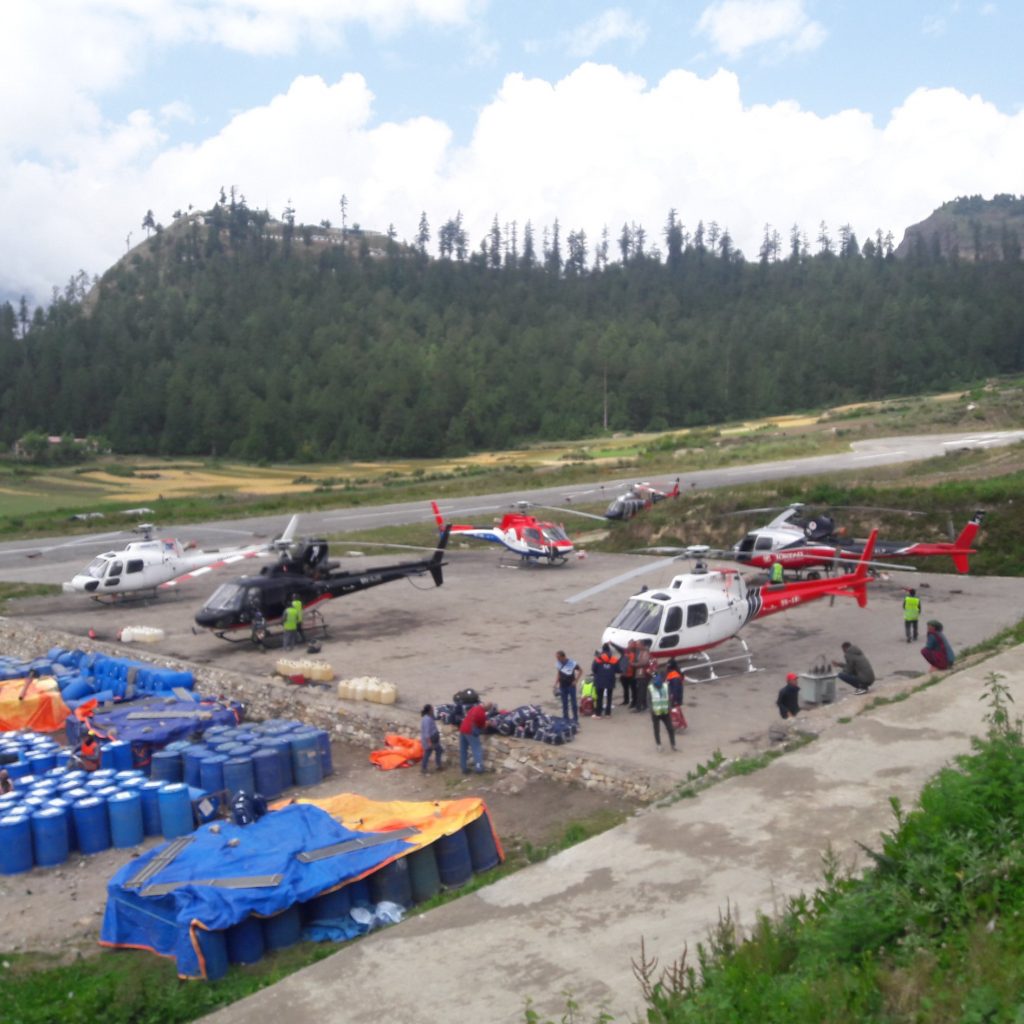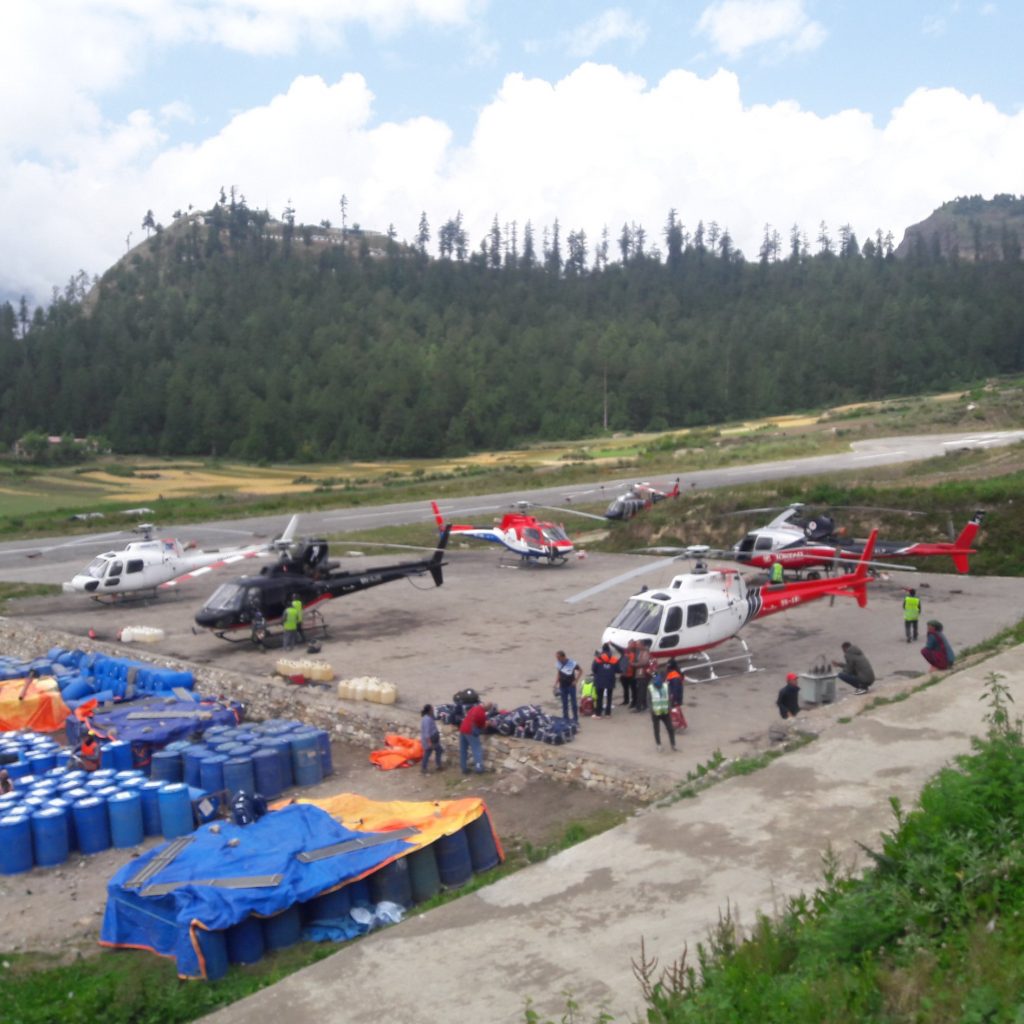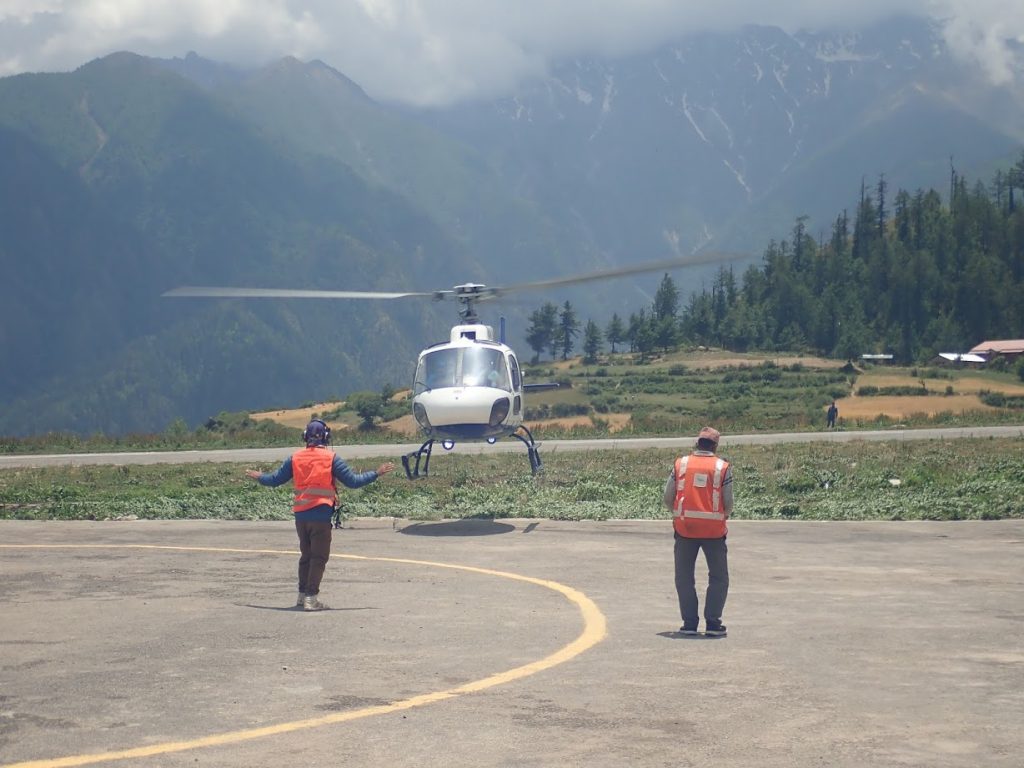 We sat joyfully on a bench, and led by Swami Shantivratananda, we decided to do Lalitha Sahasranama chanting as we waited. Swami ji would sing one line, and we would repeat after him. This was the first time I was doing this chanting, and before the trip, I wasn't even aware of what Lalitha Sahasranama was. Though I had taken my initiation in 1993, it was only in 2016 my interest had deepened, and my spiritual journey including knowledge of philosophies and rituals had accelerated.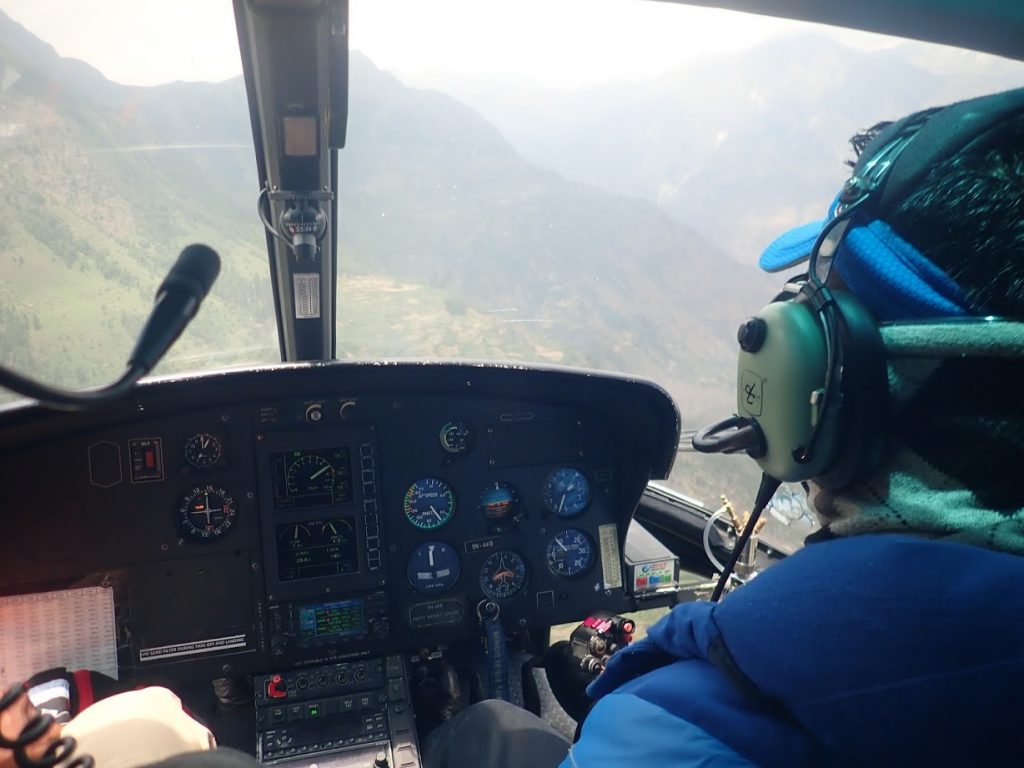 We were among the last few groups to take the helicopter to Hilsa, and reached by around 2:30 PM local time.  When we reached Anand, the founder of Shankar Treks, told us how fortunate we all were to finish both the trips in one day, and that all the group was in Hilsa now.  Often one gets stuck in Nepalgunj, or in Simikot, and the tour operators had kept one extra day buffer for this. We were definitely lucky and mother's grace was there all along.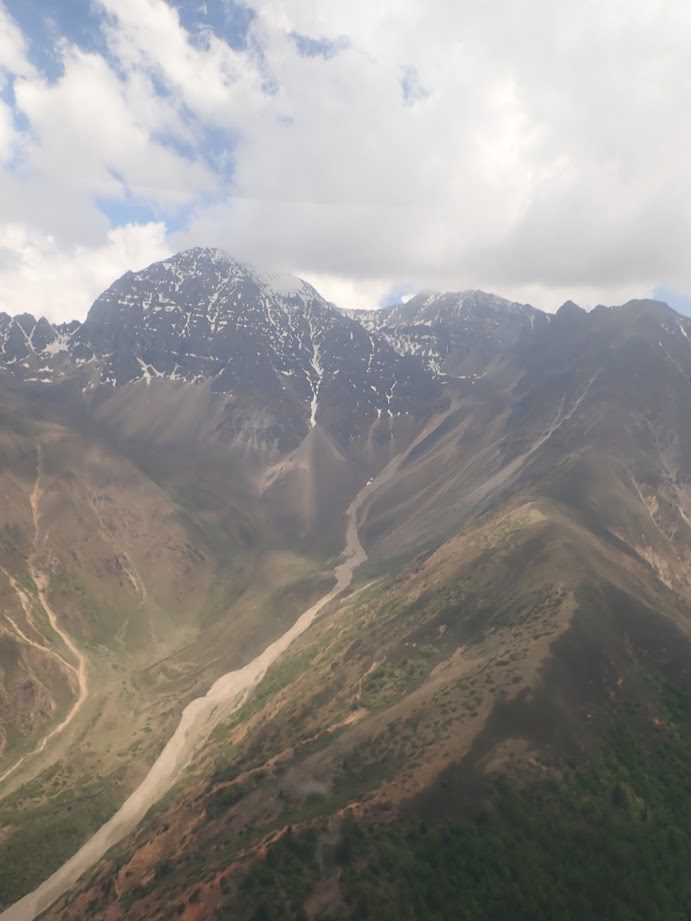 We were close to the China border which was only about 500 m, and you could see the immigration building clearly. But our border crossing was planned for next day afternoon, and this time was to acclimatize with the new altitude.  At Hilsa, the accommodation was very basic in a lodge, with 3 beds in a room, but with running toilets.  In the evening, the oxygen level and distributed Diamox for AMS in the evening to be started from next day, and until we came back here.  The food was well prepared in the complete journey and often very simple food but sattvic food was there. It was prepared by Nepali Sherpa's who would be accompanying us all along the journey.  Our group had about 5 sherpas accompanying us all the way, till our return.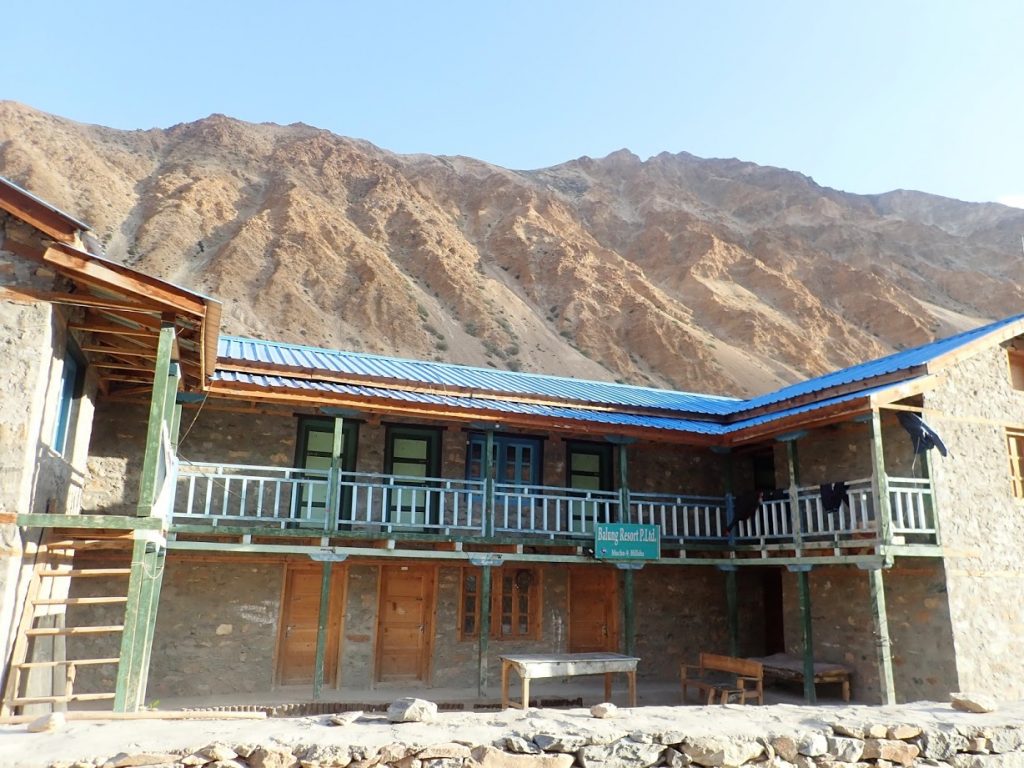 We were so close to the Chinese border that our mobile connection switched to Chinese signal roaming, and there was no signal for Nepalese SIM which we had bought. Very few of us had taken a mobile roaming connection from India, and so my phone came handy for many passengers, to inform the family members of their progress.
That evening and henceforth many evenings, we did some bhajans and chanting, either as a small or large group, and that was one of the beautiful parts of our trip. We had bhajans and songs in our bus journey as well, whenever possible.
During the remaining time we went and saw the friendship bridge joining Nepal and Tibet, and sat next to the Karnali river.  The Hilsa area was very dusty, and a lot of construction was going on.  There were some local shops, who would operate during the Yatra season only.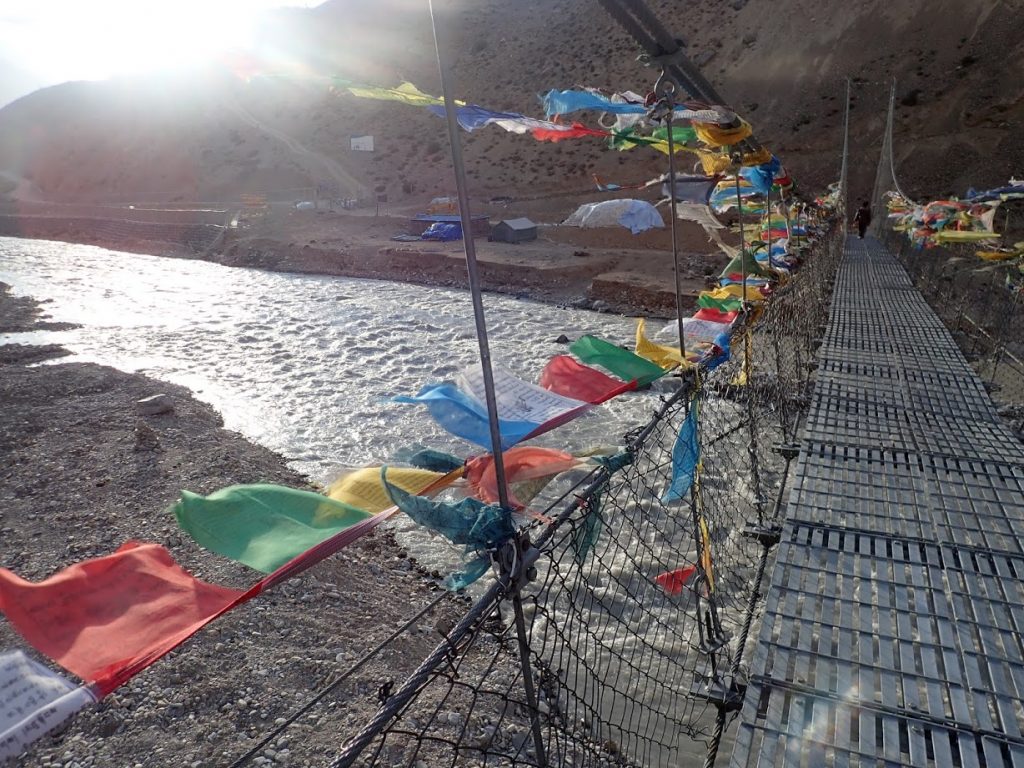 Day 3 and Day 4
Next day at our scheduled time at 12 PM Nepal time we started moving towards the border crossing. Our scheduled time to meet at immigration and visa control was 3 PM China time (12:45 PM Nepal time). What was interesting was by just moving and crossing the border our watch times would move forward by 2:15 hrs.  For reference – Nepal is GMT 5:45, India is GMT 5:30, and Taklakot/Burang is at GMT 8:00 hrs.
Before our crossing we were told these following precautions numerous times
1)      Make sure we are not carrying by mistake, any literature about the Dalai Lama or a picture of him.  It was best to delete all the pictures from our phone, as the immigration agents check all pictures, and it will be faster. They are very strict on this policy and they do very thorough checking of the bags.
2)      No photography of the immigration area.
Further, Google, Facebook, Whatsapp is banned in Tibet/China, and so are many other sites, so if one needs access one has to get an VPN beforehand. From this stage, we always had a Chinese travel agent accompany us as mandated by the govt. We took a short bus trip of 500 meters, and reached the immigration building.
The first step was a manual check done by Chinese Policy/Military. I had done a thorough cleanup of my phone even before trip started and used it to get out of many WhatsApp groups also.  I had zero images, and very few apps, so check was fine. But, I was carrying Om Swami ji's The million thoughts book with me, and they checked the book and his picture and asked who he was.
After that was done, we spent some 4 hours completing the immigration process, as some of their systems were down, and they were taking their sweet time with 2 or 3 agents, and there were few more travel groups. We were a group of 70 people, and the largest group and only after all were done, we could move to next checkpoint. Few of the elders in our group were tired but there was water and toilets in the area. It was interesting that our passports were not stamped for entry by Chinese authorities, as is expected in border crossing.  They just entered the data in their systems.
Then we had the customs checking for any packed food items/plants in our bags which were in a separate building about 1 km from there. After that we had about a 30 mins bus journey to our Hotel in Taklakot/Burang  and by the time we reached our hotel it was 10:30 PM local time.  The next day was a free acclimatization day so we had enough time to acclimatize and rest.  The hotel in Burang was Himalaya Kailash Hotel, had modern amenities like hot shower.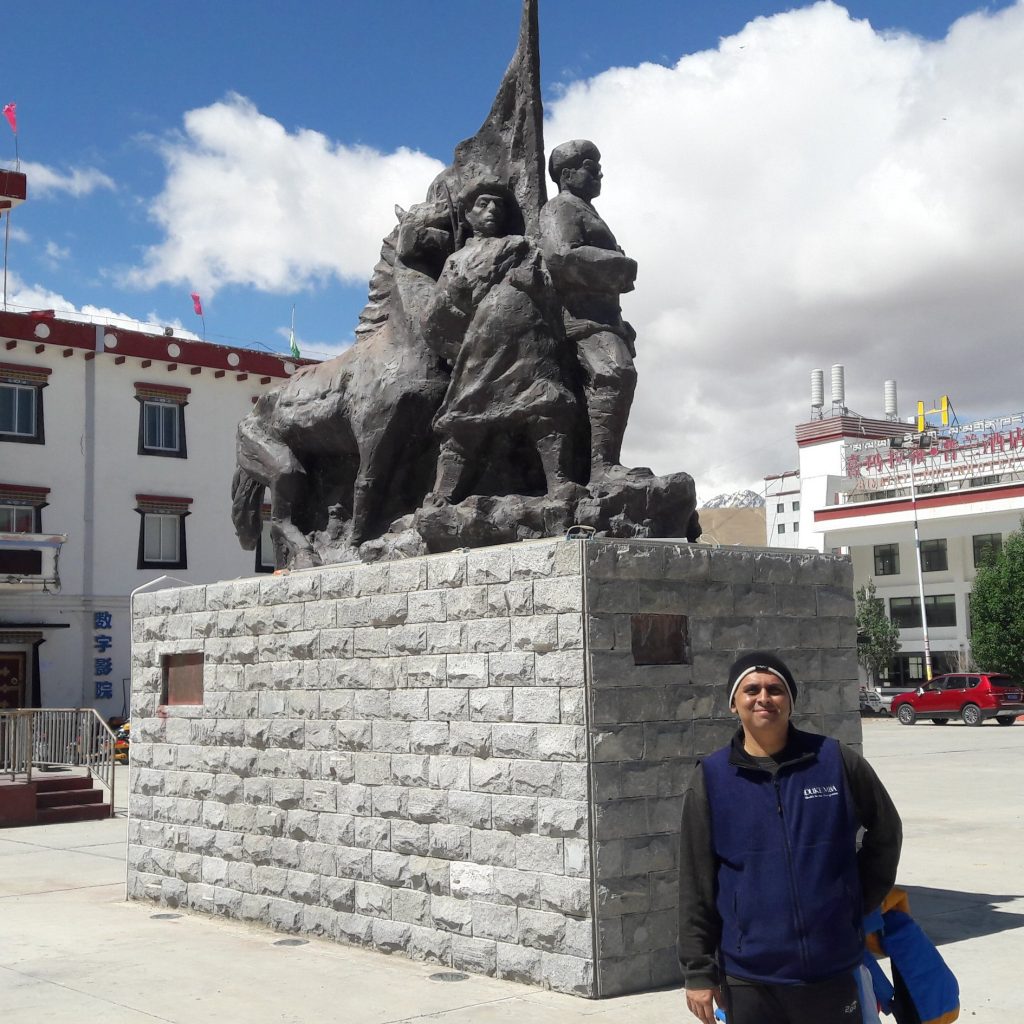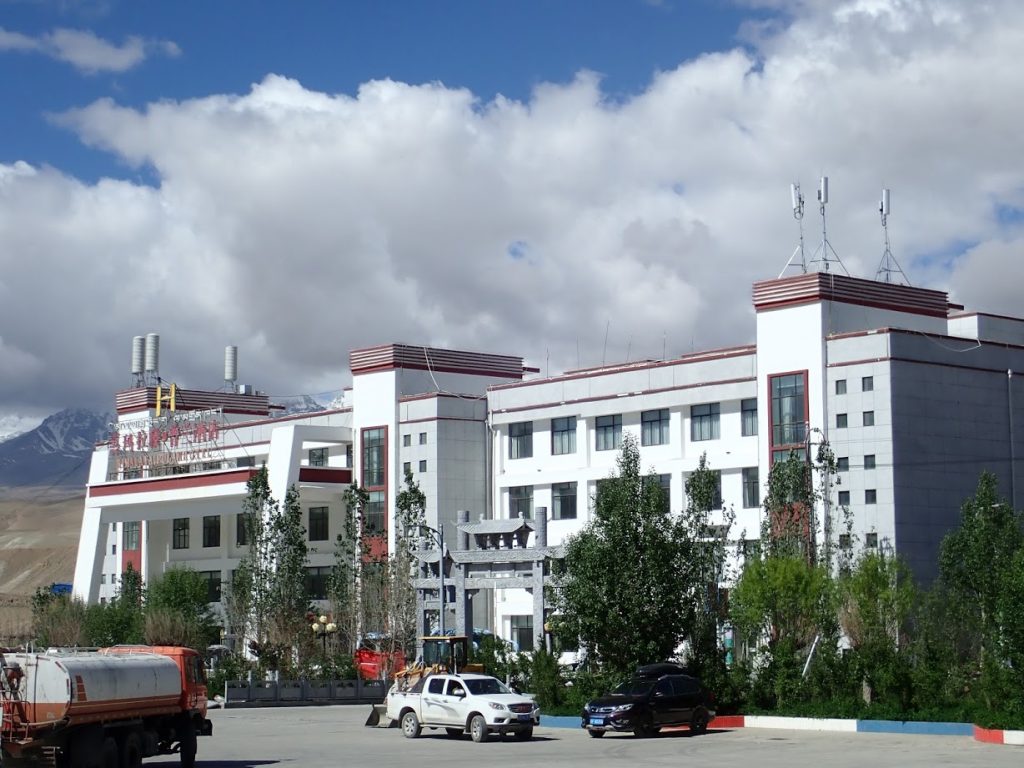 On the rest day, we just walked around the small town a bit, and it was bright and sunny during the day. My pain had increased with colder temperatures, and so on our free day, I got some pain medicine. Also as per our plan we bought trekking poles, which we didn't want to carry all the way. It was interesting buying the medicine, where they only speak Tibetan or Chinese, and we used Google Translate to understand and transact.
Day 5
We started the travel towards Manasarovar lake, by 10 AM.   First we stopped at Rakshas Taal, and also known as Ravan Tal, which means the "lake of the demon". It is considered to be the place of severe penance by Ravana.  There are no plans and wildlife  around the lake. After visiting the Ravan Tal, we then moved to visit Manasarovar Lake.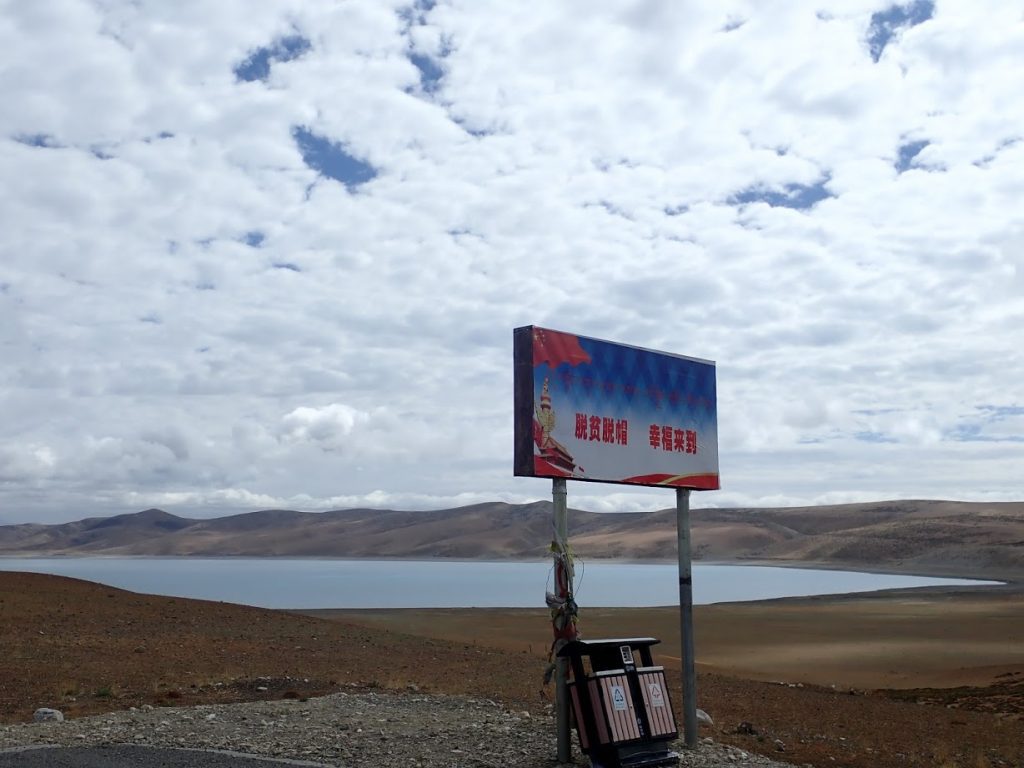 While we were getting down at Manasarovar, we had an serious incident with altitude sickness with one of our fellow co-passengers.  She felt sick and unconscious, and when the Oxygen level was checked it was alarming levels of 30 to 40%.  Immediately oxygen was given and in an emergency she along with her accompanying person were moved to lower height and to hospital in Burang.   Later she became better in a few days and headed back to home through the same route.
The story behind the Manasarovar lake is that it was first created in the mind of the Lord Brahma after which it manifested on Earth. Lake Manasarovar is a personification of purity, and one who drinks water or takes a dip in the lake cleanses their past karmas. Buddhists, Jains and Bons also have their beliefs regarding this lake, and you can read it here.
Some of the pilgrims decided to take a quick dip before lunch. The temperature was maybe 2 to 3 degrees Celsius, but the water was freezing. So some of us including me took a quick  5 second dip. After that was the lunch break and we headed to the busses which were to make the full circumambulation of the lakes 90 km periphery in bus, and which would take 3 hours.  We stopped at few places in the journey to fill up really clean Manasarovar water.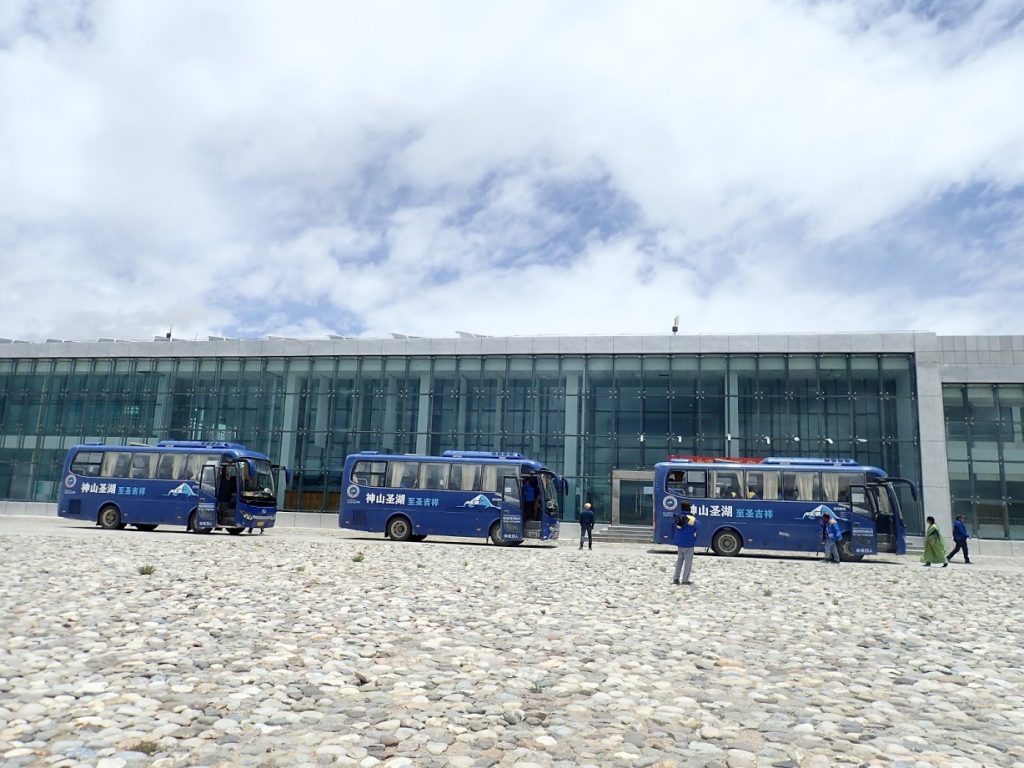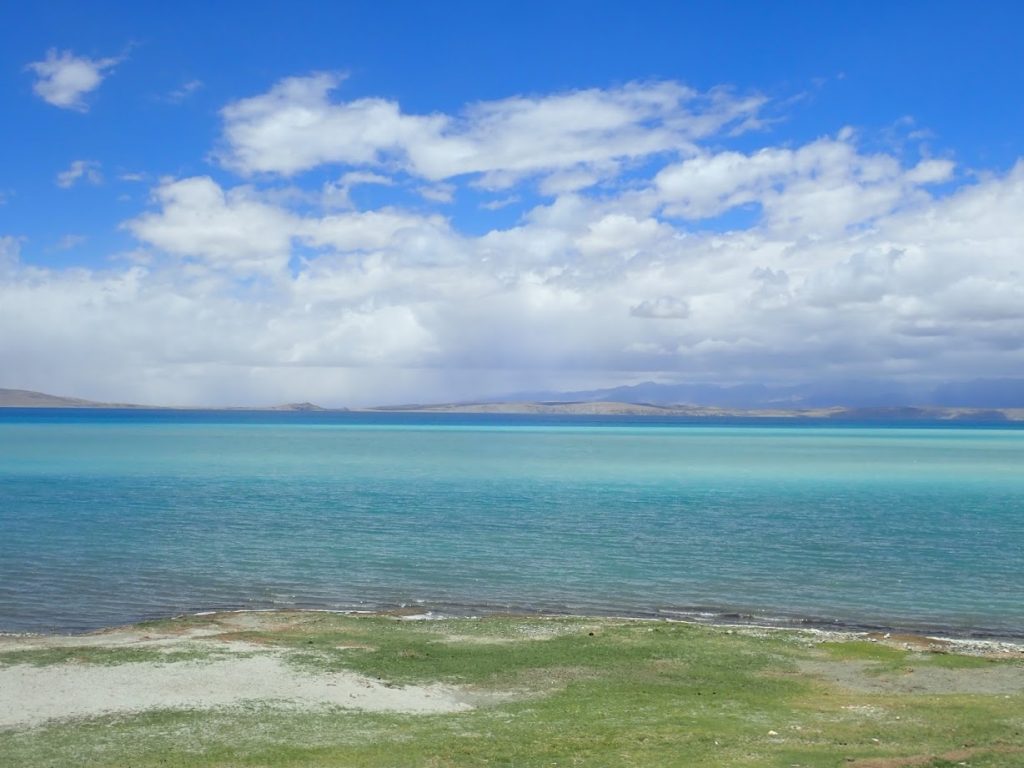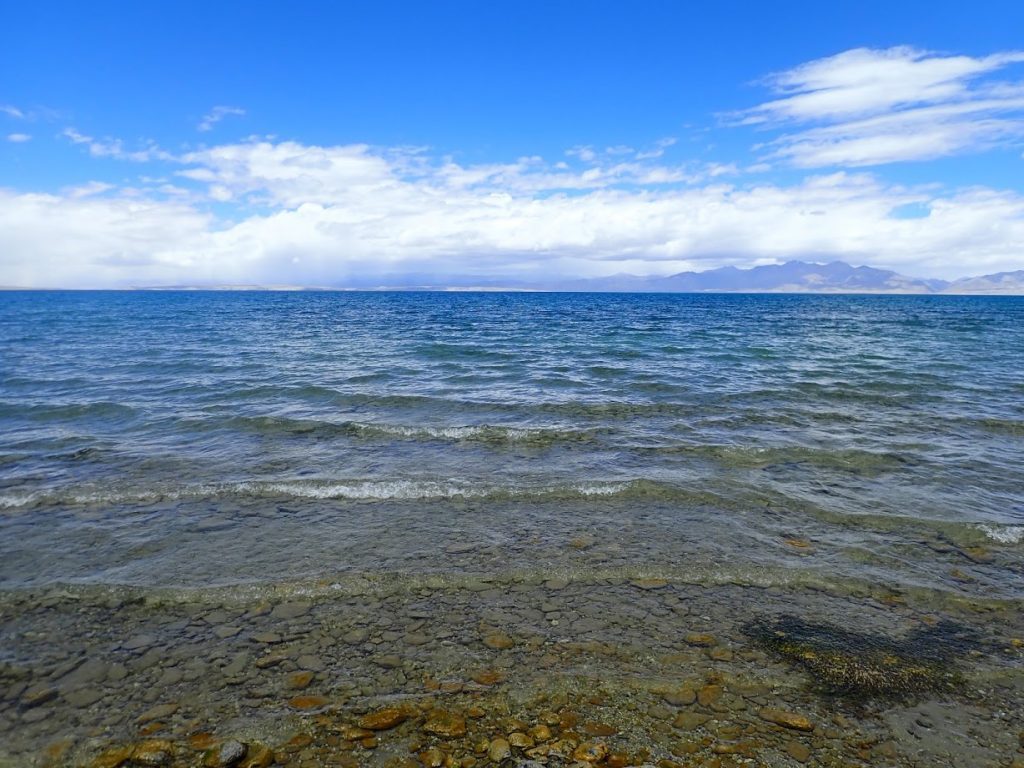 At Manasarovar lake if the clouds are clear one can see the Mount Kailash, but we weren't that lucky.  We stayed at the dormitary/lodge next to the Manasarovar lake. Here the toilets are open air. It was really chilly (around zero degrees) in the night.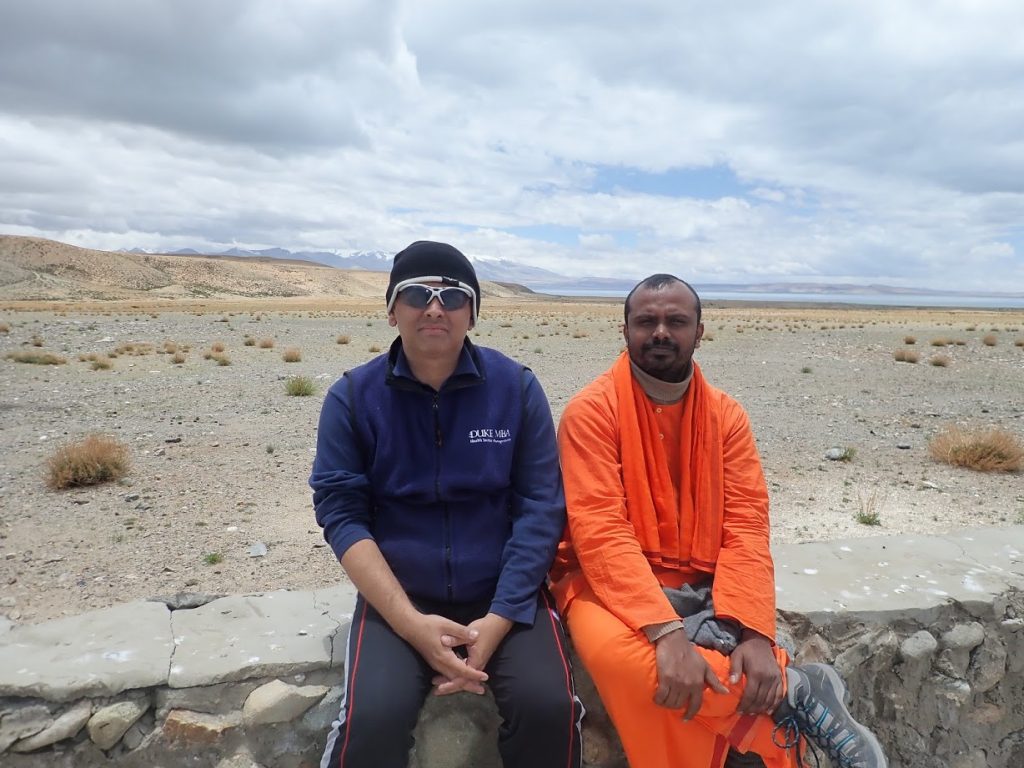 It is believed that early in the morning celestial beings, or sages come to take bath in Manasarovar lake in Brahma Muhurat, and some people have reported seeing some lights.  So some of us decided to wake up and try to see if we were lucky.  So at 2:45 AM few woke up and sat waiting to hear any sound or see any light. I didn't see anything and gave up at 4:15 and went to sleep.
One interesting thing for me was that when I closed my eyes for meditation or some chanting,  I was seeing images of tigers, and wild animals and a lot of images were coming.  I am not sure why, but may be due to lack of oxygen at higher levels, as it didn't happen after I came back.
Day 6
In the morning we could take a bath with heated Manasarovar water, and then we conduct a pooja sitting by Manasarovar lake and then post lunch head to the final Darchen base camp.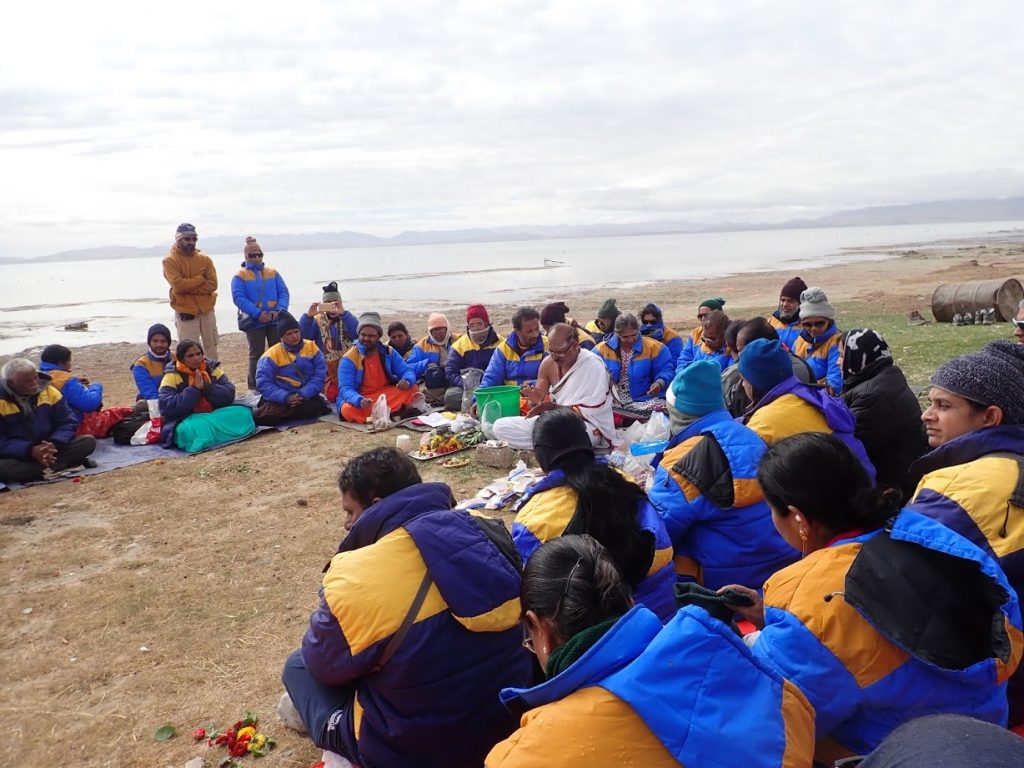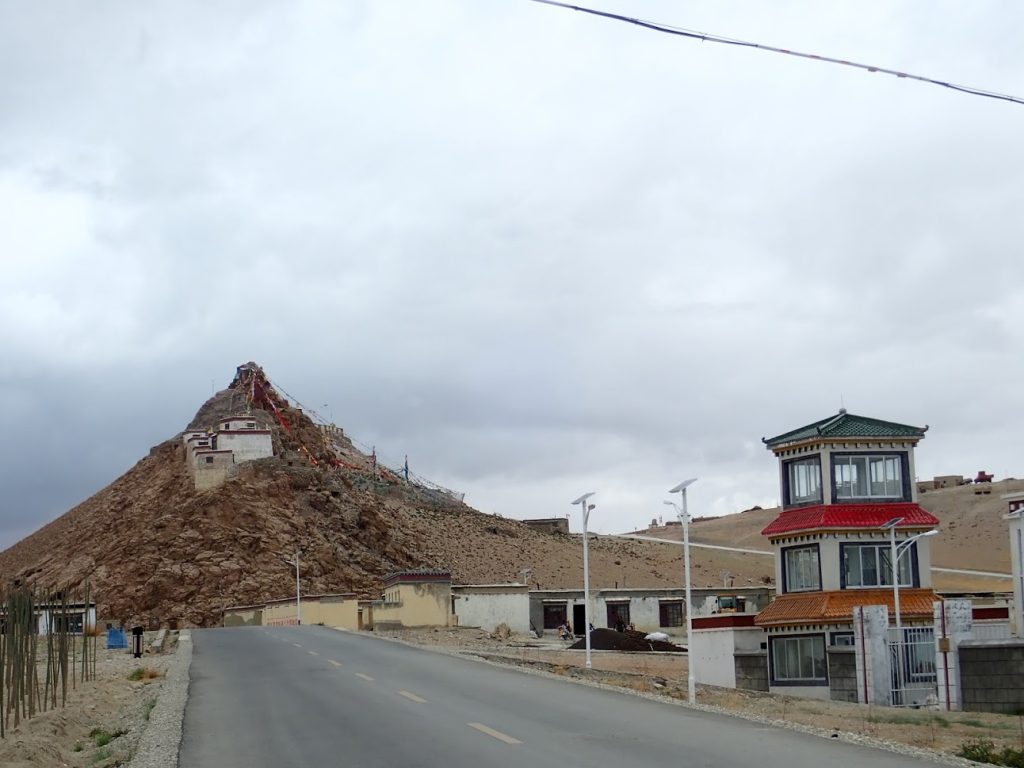 We reached Darchen by afternoon, which is at roughly 15,000 feet. Both Burang/Taklakot and Darchen have only 2 hotels there are 2 hotels which are possible, and Himalayan Hotel being one of the two options.
We saw many groups during the journey so far, and at the very basic level, the between different Kailash Yatra groups was only in size of the group, and amount of help available within the group.  Some of them also had shortened itinerary, and did not finish the complete parikrama. There was no other difference in Hotel/Lodges to stay, or food, as there are only limited options which are available to all.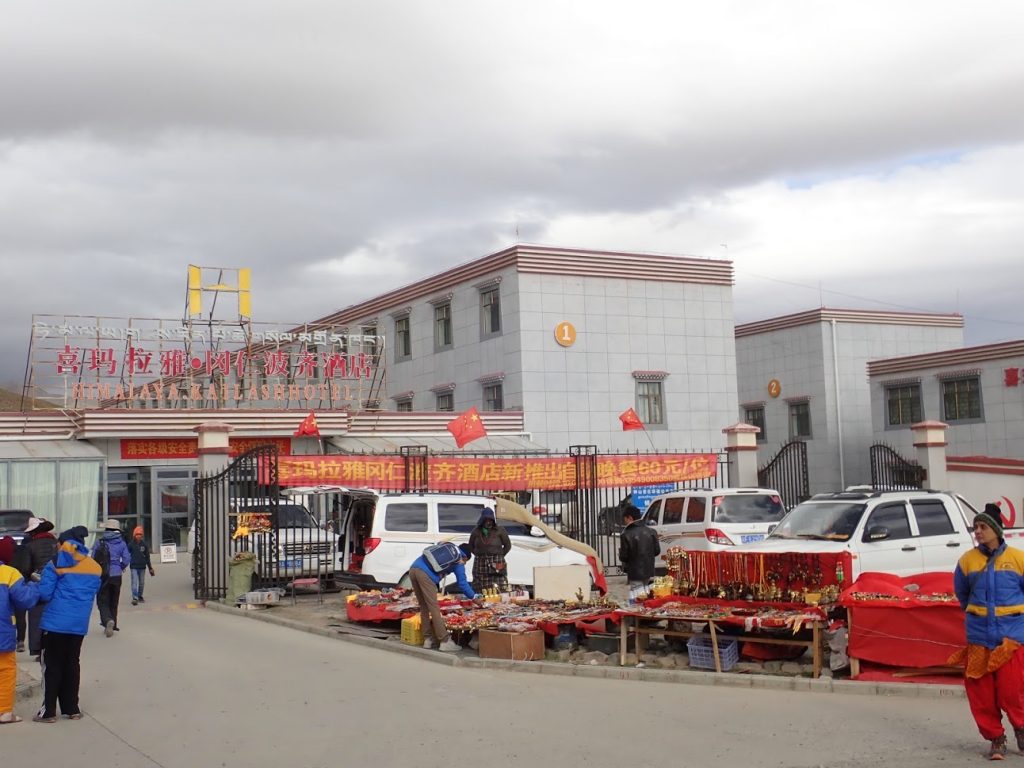 During the last few free days, I was checking my emails and phone a couple of times a day to ensure to take care of any work related items.  One of our key engineers had decided to resign during this time, and so I did have to take care of that situation.
We were also told that we were allowed only 1 bag pack during the parikrama, and very limited items were allowed. The next day would be the start of the Parikrama and we were all rested and eager to start the journey.
To be continued in Part 3 with actual Parikrama and more me-me story. 😃
ps: Thanks to OS.me that inspired me to write this travelogue, for the first time, almost 2.75 years after my visit.
---