#TheWriteChoice
He gave us a pot full of boiling hot Kheer which was the first bhog served to Lord after opening the temple for the festivities and he left.  It was a very small pot visually speaking, it must have been 150 ML pot, but when we started eating it, we realized it the depth of the pot, we five ate our heartful and went on to serve everyone who we met and then we gave to atleast 25 more people and pot wouldn't empty at all.  We kept having that the next day also till it got finished in the pot. It must have given atleast 75 serving in total, which also was a miracle for us, for the size of the pot.
That day we went around the temple where 3 chariots were parked, (pic attached) they were getting them all near the temple premises, so we pulled them to some distance, went to do some shopping and came back to our rooms.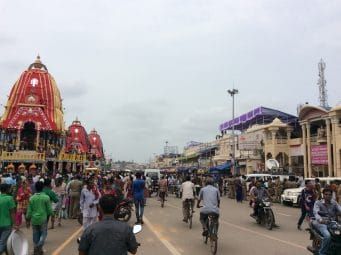 Then came the actual Ratha Yatra day. The passes we had took us to a different gate to enter. We stood there for 20 mins, something told me that cant be the entrance because of the simple reason being I got placed in that hotel outside a gate for a reason, and that has tobe the door for our entrance, so I decided to come back to the room, take a break and try entering the Mandir from that gate only.  As destiny have it, I kept looking for some divine message from our balcony.  Suddenly I felt the urge to go, and I ran towards the gate.  There was some commotion in the entrance and took that as an opportunity and within no time all the 5 of us ran non-stop into the Mandir.  We were in within no time and sat in the Mandir complex before deciding how to enter inside the main sanctum sanctorum.
Once again, very similar message came, some commotion was happening in the entrance and the 5 of us took that as an opportunity and within no time we were inside to witness Maa Shubadra coming out dancing and then Balarama coming out dancing.  We must have stood there for 45 mins and thru the 45 mins I kept fighting with Jagannatha that I didn't come all the way to see him on the go, I have to see him inside his sanctum sanctorum and I don't know how he is going to make that happen.  I kept asking and asking to see him very near.  Right then, someone took a batch of 10 people inside and since the place was very crowded those people were struggling and squeezing in to pass the rope they had tied from people entering.  They came back after 10 mins and they really struggled to come out because of the swelled up crowd.  As they were navigating thru the sea of people, I had a huge push on my back, I toppled, went and fell right at Lord's feet inside the sanctum sanctorum.
It took me sometime to realize what just transpired. When I looked up I saw Jagannatha in full glory in front of me. 4-5 priests were standing near him, ready to take him out next.  I stood there dumbstruck, staring at him crying profusely for the Divine Grace showered on me unconditionally. I was inside for 10 mins and one of the priests called me near, he took my hand made me touch him – The Lord of Universe – Jagannatha – I felt electrified !! Before even my eyes could see, he had taken Shashtang Dandawath Pranaam from me when I got pushed inside, so, I just prostrated once again & thanked him for the once in a lifetime experience and came out with a big Glee… Post that he came out dancing (pic attached) from Garbagraha outside.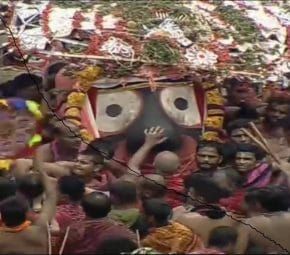 All pics shared are clicked by us & Blog profile pic is the live seen from our room.
Everything happened felt like dream for me after that. My feet were not touching the ground, I was floating in the air with a big smile on my face.  That smile remained on my face and the bliss I was going thru remained for almost a month then.
That was all about my trip to Puri and the darshan of The Lord of the Universe – Jagannatha in July 2015.  All Glories to HIM 🙂🙏🙇‍♀️
Check Part I here : https://os.me/short-stories/nabakalebara-i/
Check Part II here https://os.me/short-stories/nabakalebara-ii/
---