O sweet poem
from where have you come
breathless
to be at the feet of the Lord?
Oh how unwittingly
you stare at Him
as if spellbound
by His dark form.
Oh my look now
what you've become
a blooming hibiscus
shy pink
against the black stone
of His toes.
His beauty has surely
stunned your mind
for why is the air not filled
with your song?
The words that sung His glories
are muffled
everywhere the drums of devotion
are beating
and here, in the temple
you've gone quiet.
I don't know who puzzles me more
a tongue-tied poem
or a talking God?
O, sweet sweet Lord
What's this trick?
Ah come on, now
return my poem to me
You have stolen her heart
as you hold her captive
at your holy feet.
A simple rhyme is all she is
what would the Lord of the universe
want from a frail poem like she?
A bird, a flower, a river, a tree
Your poem can be whoever
You will it to be
You are her song
now please, will you return mine to me.
Related Q&A
Lord Shiva is easily pleased! What's your experience?
Jai Shri Hari!
Lord Shiva is called Bholenath, the one who is easily pleased!
Is it true that he is that easily pleased than Lord Vishnu?
(I believe in both of them as the same divine - HariHar!)
What's your experience with lord Shiva?
Thank you in advance.
Om Namah Shivaya!
Har Har Mahadev!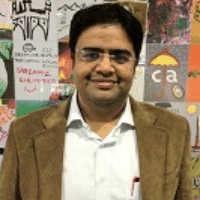 AkshayOm
replied 2mo ago
Jai Sri Hari bhai. You can never worship Mahadev thinking he is easily pleased. It's the same Mahadev who moved his toe to crush Ravana under a mountain and yet melted when he sung Shiva Tandava Stotram. It's the same Mahadev who pulled out one hair to create Bhairava and yet wept in agony for Sati. You can only love him because he wants you to. The eternal Yogi, the first guru, the king with no crown. Only his love can tell you the meaning of love. 
What is the most beautiful emotion/feeling you have for Bhagwan?
Well, we all love Bhagwan so much, so in order to express your love for Bhagwan. What is your favourite bhav(emotion or feeling) that connects you with Bhagwan instantly? 
Jai Sri Hari 🙏
Sri H
replied 3w ago
Jai Shri Hari!
The only emotion that connects me to Bhagwan instantly is Loneliness.
Because I am never alone, Mahadev is always with me. I can feel it. I can experience it every moment when I think I am lonely.
He is always with me and I have faith that he will forever be with me.
Thank you.
Har Har Mahadev!
What is the most beautiful virtue of Bhagwan, you have recently imbibed/ thinking about ?
When I was child, I read somewhere that to love Bhagwan is to imbibe his values that he stands for in your being.. is the most beautiful way of loving God. Here, we all love Bhagwan dearly, have you imbibed or thinking to imbibe one of the virtue of Bhagwan in your being. What is that single most virtue close to your heart? Do share yourself. 
Anu D
replied 2w ago
Being fit, attractive and always smiling😉😉❤️❤️
What is your transcendental experience with divine?
Sometimes, we experience Divine in most simple moments of life. Have you ever felt such a state of consciousness where you feel oneness with Bhagwan. How Bhagwan makes his presence feel in your life. Eager to feel the bliss of your experience with the divine. What are your those divine transcendental moments in life that is close to your heart?😊
Anu D
replied 1w ago
When I dance in love! ❤️❤️
How can you see the divine in inanimate things?
Have you ever felt a feeling of love and oneness with inanimate things like wall or a chair as you may feel for trees and river? How can this feeling be developed?
Neelam Om
replied 4w ago
Hello Kirtee,
It's a journey before you reach this state of consciousness you will see massive transformation in one's consciousness. I believe it's not a one moment when you start to feel love for all animate and inanimate beings or see divine in all things. Keep walking and see how it unfolds, if it is to. It's only with grace that one can be blessed with such state.
Jai Sri Hari 🙏
AUTHOR DETAILS
IN
A graduate from Sophia college & an MBA. Turning point of my life was meeting my master. I love pestering God with fervent praying and am certain SriHari hears my prayers.
---