So the cover image is probably what I would want to start and end this post with. First, a DISCLAIMER, this article is all about I, me, myself and me blabbering endlessly about how cool I am and how much fun I had on a long trip to the US (which was long due) !!!
For ease of viewing, I am sharing the cover image here again. 
This is part of the pics I took with so many people I met in just ONE trip. The trip was Coimbatore-Mumbai-Dubai-New York-New Jersey -Connecticut- Boston-Detroit-Chicago-Dallas-San Jose-San Francisco- Dubai-Delhi and back to Coimbatore. 
The trip was 14 days in the US, 1 day in Mumbai and 1.5 days in Dubai. 
The intent was to meet 50 people in 15 days, and I over-achieved the target!! Don't waste your time counting the no. of people in the collage, as its not complete. These 50 included family friends (i specifically excluded close family from this count, so you will not find my sister in there!!), school friends, college friends, MBA friends, former colleagues, professors at various B Schools, Angel Investors, and VCs, with whom I wanted to connect professionally.
WHY- This was my 'revenge travel' trip – break the shackles of 2 years of lockdown and my last trip to the US was way back in 2018, so had to catch up with lot of people, including my dear sister who lives in Detroit. 
I basically, LOVE travelling. More than anything else, I get to MEET people, which I also enjoy doing. Connecting, reconnecting and staying in touch with people is what I have been doing all my life. 
For instance, Kunal, who I met in New York and we did an amazing 10K run in Central Park, I met him first sometime in 1988-90 time period. He was not even from my school. But he had come for a debate competition to my school, Campion School Bhopal. I loved his speech and we connected (remember this is pre-internet, pre-mobile phone, pre-email era). We stayed in touch through the last 30+ years. I guess our last meeting was at his parent's home in Mumbai in 2004-5 time frame. 
Or take example of Jeff, who runs a VC firm in Bay Area. I met him for the very first time. I connected with him through another friend, Kunal, who is also in the US, also in Bay Area. It was unfortunate that while I could meet Jeff, I could not meet Kunal. And they both are room-mates from college days!!
There is another Jeff in the picture, who is a top notch VC and serial entrepreneur whom I had not expected to meet, as I did not even know him. But when I accidentally met a prof of entrepreneurship from Rutgers in New Jersey and told him that I was looking to meet VCs in the Bay Area, he connected me with Jeff and viola! in less than a week, i was actually having lunch with Jeff !!
Then I met Abhay, my senior from Engg college, in Dallas. I did not even know that Abhay is in Dallas. It's when i met Prem (another senior) in Boston, he told me I should meet Abhay and that's how I met Abhay – after 27 years.
Another Kunal, who met me in Chicago, was my colleague in Wipro and we last met probably in Tokyo when he visited from our Offshore Delivery centre in Bangalore. This was at least 17 years back. But these connections are so deep-rooted, we did not take time before cracking jokes and reminiscing the old times we had in the past.
Then I met another school buddy, Himanshu, in the Bay Area, after 30 years. This happened because when I met Abhishek in Dallas (also meeting after 30 years), he mentioned that Himanshu is running a startup and looking for funds and it would be great for me to meet him !!
I met another old colleague from Wipro, Amey, and started talking about our mutual admiration for books and passion for reading. It was a refreshing change from the old times, when I would crib to him about delivery issues (he was based in Bangalore) and he would complain about the sales team's inability to push back the customer (I was based in Tokyo).
Then I met Jeevan and Anand, both of whom were my sales colleagues in Wipro Japan and we started off from where we left, talking about how we had to wether pain from both sides, sales as well as delivery and yet we used to ENJOY doing our job !!  both of them are now doing well in different companies, L&TIT and Meta, respectively.
I met Atma, another school buddy, again after 30 years. The only last instance of a direct connect we had was when he was in Noida a few years back when his father passed away, we spoke on the phone, but we could not meet in person. He is doing some high-end research in MIT labs now. Far cry from the good old school days, when we all thought that none of us had any skills. worth talking about !!
So, to cut the story short, all these experiences and reminiscing the old memories would not have happened, had I not ventured on my trip. Of course, I had to make adjustments on the work front, push back my PhD deadline and of course, a trip of this size and nature, does cost money. But the joy and happiness I got from meeting so many people, connecting on so many topics and literally living back those fond memories of the years gone by, it's all priceless, and totally worth it all!!
Fun Fact: My main purpose for travelling to the US, was I ran my first international major, the Chicago Marathon!!!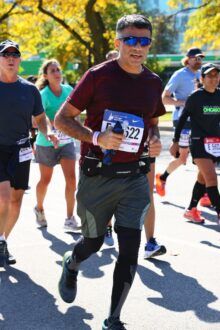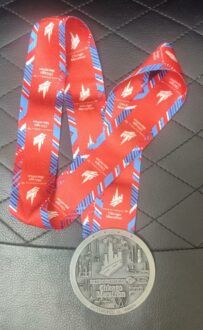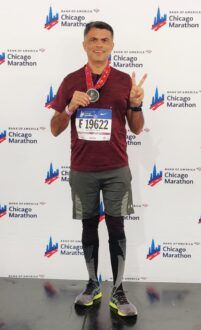 ---