Last year during December event I visited Bhadrika ashram.  My visit was filled with emotions. I was not able to control my tears. 3 days I cried and cried Infront of Sri Hari. Are those tears of devotion? or pain? I don't know!! but I could not control them. Infact during personal meeting by seeing my solen eyes and running nose Swamiji offered me tissue.  
During the personal meeting Swamiji said you are a noble soul, I don't know why those words hurt me so much (I know its little crazy but that's how I felt). Thoughts kept flowing "what is the use of this noble soul if I can't surrender myself and serve Sri Hari. Third day as usual my tears kept flowing. I was sitting near Swamiji's paduka in the temple no one was there except me and Sri Hari. I was asking him the same question what is the use of this nobel soul.  
Suddenly a Sadviji (Sushree Nitya Om) came and gave me a flower and told me, it's not me giving, its Sri Hariji giving you this. At that moment it felt like Sri Hari heard my call. 
On the 4th day after Arati I was standing in the line to get the prasad. I saw Sushree Nityaji again. I went to her and said thanks. She called me to her room and listened to my story. Just like a sister she hugged and consoled me and gave her contact details.   
I was really touched by her love and warm hugs. As you can see my writing skills(no skills), I'm not that good at expressing something through words. So, I grabbed some waste paper barley found a pen and scribbled a drawing about how I felt her kindness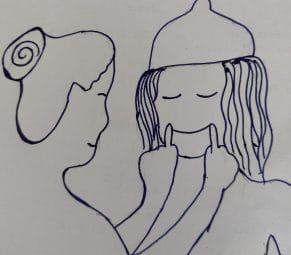 and her reply was absolutely beautiful. She written a poem
A smile planted on a long lost face  
Is all it takes  

The world turns upside 
Not just for the taker  
But the giver  
equally..  
Is grace  

Forbidden happiness  
Returns with an embrace  
A touch of kindness  
and a shimmer of faith  
Brings life  
Bubbling to its surface  

May Bhagwan's grace  
Please all, who walk His way  
The world of struggles  
Turns into a magical one  
Beds of Tulips  
Purple, yellow & grey  
In surrender  
lightly sway  

How I wish  
Like an abandoned ship  
None ever be lonesome  
Like I once was  
And still do  
In moments of despair   

This smile planted  
Once,  
Journeys through eternity and beyond 
Spreading its fragrance all through the way  
Knocking all sorrow  
Making everyone merry and gay  

May Bhagwan's Grace  
Fill this New Year  
with His presence  
blossoming  
Like celestial buds  
Of unseen un-known flowers  
Sweep us off the grounds  

Leaping into His world  
Leaving behind ours  
We forever stay humbled  
In a Cozy corner  
Of His magnanimous heart 
I never explored myself drawing minimalistic drawings. I use to sketch a lot. Actually, sadviji encouraged and appreciated each of my drawings. In that course of time, I started fall in love with that style of drawing. Which are very simple with few lines but tell deep stories. I deeply want to Thank Sushree Nitya Om through this platform. 
 I got a new media to express all my feelings, I always struggled to express them through words. Now I can draw them and also decided to share with os.me family. 
I hope you will become the voice of my scribbled feelings. 
you can do any one of the following
1.You can comment your favorite drawing and tell me why 
2.If you like you can give them all a catchy title 
3.If some drawing invokes a poet in you, you can also write a poem (please do mention the drawing with that) 
Or you can just share the overall opinion 
I'm looking forward for your comments and different expression of the same drawings.  
Jai Sri Hari. 💞🙏
Image 1.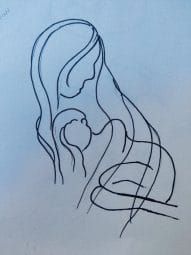 Image 2.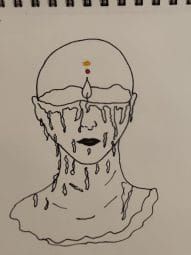 Image 3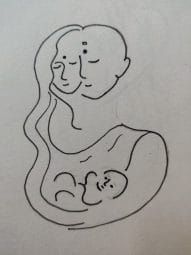 Image 4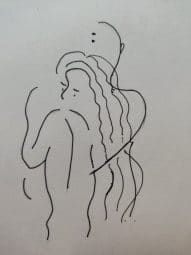 ---