I offer my obeisance to you Rev. Sri. Sri. Om Swamiji🙏🕉Wishing you love, peace and good health abundant🙏🕉
No moment is too small to claim. Strung together, moments fashion a life."
― Gina Greenlee
We weave many sweet memories on our life journey, and sometimes it brightens the heart with a lasting smile to savour the sprinkled moments that breathed lasting freshness into life not once but many times.
A nomad soul, treading on the edge,
breathing and living sliding on a sledge..
Camouflaging moments, 'life' a chaotic beauty,
yet the heart throbs to unfurl creating its own story…
A Slice of Life… 
There was a knock at the door, that afternoon. As I opened it, I saw a beautiful lady , seemingly in her mid twenties .
" You asked for some domestic help. I am willing to do the cleaning and dishes in the morning".
" Yes, I do need help.  I can let you know what needs to be done", and I warmly let  her in.
Her name was Sumitra.
She hailed from a very respectable humble backdrop . She spoke a bit hesitatingly, as she was permitted to work only for sometime .
Her husband had allotted  her just few hours to step out in the morning, and ensured that it would just be couple of decent homes she worked in. It was difficult for her indeed but she was happy to get some income, for her little kids.
After few days of work she narrated her story to me. She belonged to a community where women are not made to step out of their house. I was really moved to see how she braved all odds and was capable to give a decent life to her children.
Soon she became like a family to us. My daughter at that time was barely 3 months old and my son  Karan was three years of age. It was tough for me to do all the chores, running around multitasking, to cooking , to holding my little baby girl in my arms and rushing to pick up my son from the school bus stop , and above all looking after family affairs. The clock just kept seemed to be ticking in my head non stop.
Having Sumitra as a kind help was such a respite . She would generously do things for me at times . The feeling of care was  mutual. Surprisingly, there came a time when  her husband  permitted her to work only at my place.
As a routine, she now started to take out time to pick up my little son Sunny from the school bus stop.
It was almost a ten mins walk to the bus stop which was opposite to the main road. One really had to be careful while crossing  the road as it would always be jam packed. Sunny (Karan ) was trained to wait patiently on the other side till the time Sumitra arrived. She would then carry his bag and slowly make him cross the road holding his hand securely. Out of love, many a times she would hug him in her arms and get him home.
This one time she came back banging on the door, and when I opened it, she rushed with my son into the washroom. She had soiled her clothes as my son had taken unwell and was throwing up.
Poor little child  tried hard to control and kept mentioning to Sumitra " Aunty help me reach home quickly".  And she just rushed holding him tightly in her arms, even though she noticed her clothes soiled,  kept reassuring him all the way to not get bothered and tenderly  attended to him with even more care, once home. She showered him with  immense emotional security. 
A few months later Sumitra had a minor heart attack, the stress of day to day life with her in-laws had taken a toll on her. A month of recovery and she came back to work. She looked frail and weak. I was insistent that she takes few more weeks off, she was adamant to rejoin.
" I keep missing you and the kids, Bhaabi ", she almost cried .
" Okay, if you so wish, then  let me keep another helper so that work wise you don't slog too much."
" Doctor has advised me to walk and do my chores, she was rather insistent in doing the work.
"Fine, then let me help you for a few days, and you just need to pick up Sunny from the bus stop, if you so wish."
She was more than happy to re-start. I guess it was a respite to be in a place where she felt warm and welcomed .
The day was as usual. Sumitra was busy tiding the wardrobe. Soon she entered my room, to inform me that she was leaving to pick my son up from the bus stop.
The town seemed to be overcrowded and traffic was crazily moving owing to  a scared day in the holy place.
Sumitra was overly concerned as she was unable to cross the road quickly when she saw the school bus halting. She kept vigil on Sunny getting down so that she could wave at him to stop and wait for her.
A three year old child is always innocently delighted to see his dear one come and pick up and  Sunny, the moment he saw Sumitra on the other side waving at him, started to run blindly on the road to reach and hug her.
Sumitra shrieked out… It was like  a knee jerk reaction for her  , she panicked at the sight of Sunny running towards her, for she saw a truck speeding by madly ….
Her heart skipped few beats and she fainted on the spot .
As she recovered, she noticed few women wiping her face with wet cloth. She quickly gathered herself and started shouting, "My Sunny beta, my Sunny beta, where is he? "…
"Aunty, I am here, what happened to you?" ..Sunny kept patting on her face, crying and petrified with all the commotion. 
Sumitra hugged him tightly, "my beta (son), I would have died instantly , if anything had happened to you. I am sorry I could not reach your side before hand, you should have just waited for me". She was crying inconsolably.
It was indeed kind of some people who helped to drop her and my son back home securely. 
It took her few hours  to settle down completely. I was really worried as she had just recovered from her heart condition. I made her rest and understand to not carry any guilt of the incident .  She felt much better and  sat down with Sunny and they both had some food. There was a delight in her eyes to see him safe and sound with her. Her bond with Sunny was inexplicable. 
Her husband was informed and he came to pick her up. While leaving she hugged Sunny warmly , " wait for Sumitra Aunty always beta. You know how much I love you".
Sunny kept waving at her as she left for he too was too moved with all that ensued,  esp. Sumitra fainting.
I surely was blessed to have her in my life, like a dear friend and a mother figure to my kids.
There were many such heart touching moments where Sumitra served unconditionally for good 6-7 years.
After few years we decided to move to Rishikesh away from Haridwar . It was hard to leave her and she felt shattered. It was a very emotional time for us. The kids had got so used to her.
I used to call on her neighbor's phone every few weeks to enquire about her well being.
Time flew , the kids grew up and around 2003 , we bought a new apartment in Rishikesh and were planning to then shift to London for good. My son had already left for his higher studies.
Before leaving , I called Sumitra  up during the Greh  Pravesh pooja.  Probably that would be the last time I would be meeting her too.  She came with her husband for a day. She felt sad as she could  not meet my son when he left few months back, for it was just so sudden.
Things had changed drastically for good in her life too. It was kind of her in-laws to impart them with their share of the property. So she no longer had to work in houses outside. She rented couple of rooms and source of income started to flow well. She had now started sewing clothes on order, from home itself for extra income. God truly had been kind on her.
All she needed was a sewing machine for she had to borrow one from her friend each time .
So I offered her my sewing machine and some other important stuff when she was set to leave in the evening. She was simply overjoyed.  I loved that feeling on her face, for it filled me with immense content.
Hugging her warmly, I asked her, " If you need anything else just let me know. Don't hesitate ".
"Bhabhi, you have been like a mother to me. The coming years I don't know where we all would be, will carry the memories of both your kids. I have spent time raising them like my own children".  Her eyes had moistened …. She added, " Meri ek hi ichha hai, mera beta jab doctor banjeyaa aur uski  shaadi ho jaayegi, mein ussay hak se sone ke jhumke loongi" ( "I only have one desire, when my Sunny becomes a doctor and gets married,  I will take gold earrings from him, it's my right from my son to ask"). All this while she kept  wiping her tears with her duppatta( scarf).
Only a  mother's love can utter such heartfelt feelings of expression.  It felt like Divine presence at that moment standing in my house and I the chosen one, to humbly offer something to  a venerated Soul 🙏
" Just, such a small wish Sumitra! You could have asked for something even more ".
"Oh! that is like the biggest dream I have held on to in my heart, but could only disclose you today, Bhabi". She shyly and warmly held onto my hand . Her soft grip could speak volumes of our parting , our bond of love and care. We both had tears in our eyes.
" Okay, on that note could we have some good chai, made by your hands as an added cherished memory, before we part", I lovingly hugged her to cheer her up.
She was delighted, went into the kitchen to prepare tea and some snacks. Her husband was a kind soul and smilingly and patiently waited for her till she was done with her work.
I managed to reach up to my daughter's luggage that was all packed up.
"Dimple can you part with your gold earrings beta" and I narrated to her what Sumitra's dream was.Since I never wore the hanging earrings, I had no collection of it and hence had to take my daughter's help, for she had couple of pairs on her. 
"Sure Mommy" and she quickly reached out to her bag and took out her earrings . "Mom, Sumitra Aunty would really  be happy ", she said smilingly.
"You give it to her from your hands" I asked my daughter to gift it to Sumitra.
We went out of our room, Sumitra had served tea for us with some hot pakoras( Indian salted fried snack of onion and potatoes).
I held her hand softly and Dimple kept the gold earrings on her palm.
" No, Bhaabi, please I had simply just mentioned you about my dream, when Sunny beta becomes a doctor and gets married . There is still time". I cannot demand this from you but I can demand from Sunny when he starts earning", she felt hesitant to accept the gift. 
"Sumitra, whatever is in this house all belongs to the children, nothing is mine. And why wait for years when you have a strong desire to wear gold earrings now. Just think it is from his side and when he starts earning you can demand whatever you want from him. But please keep this".
Sumitra stood there speechless. She Blessed Dimple and Sunny enough and was way too moved to receive this tiny humble gift . Something that her heart desired.
The amount of seva Sumitra has offered to me in my days when I could not afford the lavishness of life , or pay her hefty monthly allowance and yet was there. She was like a 'doula' who may not have been present during Sunny's birth but provided me emotional and physical support in trying phases of my life. The tiny gold was purely a sheen effect to the golden moments she imparted.
Just a few weeks back, I was speaking to my son and mentioned about Sumitra. Karan was nostalgic with the childhood memories spent with her.
"She wanted to see you well settled and married Sun and wished for a pair of gold earrings from you once you became a doctor".
" Mom I so wish I could gift her more, I feel so much for her now that you have mentioned about the incident". Sunny sounded a bit emotional . 
"I wish I had her contact no, but don't worry, I did gift her the gold earrings".
"That's so nice of you Mom", Sunny felt a sense of relief.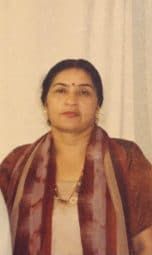 "Sumitra", embodiment  of Motherhood.
There is an unknown, unseen Vastness in all the incidents that takes place in life to evolve us and emboss to unite,  in the formations of large heartedness of many Souls. In this case Sumitra's love for my kids and the kids love and respect for her was so pure.



We are truly very blessed in many ways to receive so much love and compassion from the Universe in the form of unknown humble Souls on the path who warm us with their kindness.



And in every sense, every turn, above the spiral of time the Divine energy watches and shapes a new you, where a bigger reality shows up to recognise and thank the ever humble servant within, conferred with an offering to serve in plenitude.

Love you Sumitra,  you remain  in our hearts 🙏❤️🕉
Thank you my dear OS family for your precious time in reading the story of Sumitra. There was no way I could shorten the narration that actually was experienced for number of years. Wishing you all peace and love 🙏
Jai Sri Hari🙏🕉
Siddhika Umesh
---