Sastang dandavat at your lotus feet Swamiji.
Continuing from the previous part of the blog, I would like to narrate Samil's mundan and how various facets unfolded during the entire event. In the penultimate weekly os.me digest, the very talented Medhaji narrated our favourite Mulla's story about 'good news' / 'bad news' / 'we don't know yet'. Something like this conspired on the morning of 11th Feb 2023. As the members are aware of 'os.me Samurai Council' and I am one of the members in the same, the Council had a virtual meet from 8 to 10 AM on that morning. I was looking forward to the same eagerly. But due to unavoidable circumstances, the same was called off.
You may say "bad news". But this cancellation triggered the sudden thought of Samil's 'mundan'! Now you may say 'that's good news'. But I was really tired after an entire week's hectic work schedule both at office and at home. So 'we don't know yet'! Had there been the meeting, we would definitely not have planned. Rather the planning was to perform the ritual at Lord Jagannath Temple, Puri in the same lines of Sahil. But, jo hona hai, wahi hota hai!
After a very short preparation of about one hour (thanks to very co-operative Samil) we were on our way to 'Shri Lakshmi Narsimha Swami' Temple, Yadagirigutta by 11:05 AM. We miscalculated the duration of journey and did not carry any food for Samil 😉 A 'bad news' or 'good news', nay! again 'we don't know yet'! We reached the temple complex at about 12:15 PM. After some enquiry about the location of 'hair offering' we reached the ticket counter (to purchase the ticket for the ritual) at 12:45 PM and we saw the clerk just locking the counter and walking out for lunch / shift change. A 'bad news' or 'good news', nay! again 'we don't know yet'! We were told to wait for about half an hour after which the counter would resume its operation.
We purchased the ticket and went to the designated 'hair-cutter'. One thing I must say is, temples in South India are very well organized and systematic. As we were waiting in the queue for the ticket, the entire area of 'hair offering' was neat up by the cleaning staff. It was so clean that it was hard to believe that there were hairs all around the place just 15 minutes before! The middle aged 'hair-cutter' was ready with a smile and identified us as a 'Bengali' family beyond an iota of doubt ;). Samil's hair was moistened with water and he sat on my lap. Then the ritual started. It was really surprising that Samil did not cry for a long time during the process. He was rather enjoying it! His videos made by Sanghamitra was played and he was very comfortable to watch it on the Phone. He is a very big fan of himself, at least while watching his own videos! Sanghamitra took her turn to do the honours of taking Samil in her lap.
The process got completed and Samil's hairs were cleaned up, new dress was donned. Unlike our expectation, Samil was very comfortable with a cleanly shaven head. Sahil used to touch his tonsured head several times with annoyance and was not comfortable. But Samil did not even bother as if he was used to this! We remembered Swamiji and offered him gratitude for his guidance and divine help for getting the process finished as a commoner. (I could have got it done in hassle free VVIP manner had I displayed my official ID Card! Please don't underestimate the power of a Govt. Officer, just kidding. But I had that privilege.)
The moment we offered our gratitude and reached to kiss Samil, he suddenly smiled and looked exactly like 14 months' old Swamiji! It was a moment I will never forget. And believe me, he carries that glow and has a different vibe from that very moment. Some Googling showed that as soon as babies get rid of their birth hair, the undesired weight of the past life vanishes and they become lighter and free from some Karma of the past life. (Don't know the authenticity of the statement. Please do comment if you know anything in this regard. It will be highly appreciated.)
As I mentioned earlier, due to misestimation, we had no option than to set on the return journey at the earliest (without a proper darshan of the deity) as we had not taken any food for Samil. The time was around 2:00 PM. We reached home with a lot of co-operation from Samil. Though he was hungry, he did not create any chaos. The following are the highlights when we felt Samil's connection with Swamiji and Swamiji taking care of his baby. (Disclaimer: it is our own interpretation and no claim!)
The location of 'hair offering' was really hygienic just like our living room with vitrified tiles, granite sitting arrangement. Sahil's 'hair offering' was done in a place where even I also was not willing to sit down. Over and above, as soon as Samil reached the 'mundan mandap', the shift got changed and entire area was cleaned up very neatly. Samil was among the first ones to enter the 'hair cutting hall' as if it was a brand new facility.
Samil slept all the way to the temple peacefully inside the car and was totally unperturbed by the process of shaving his head. Since a week ago, after waking up in the morning, Sanghamitra has been taking him in her arms and taking him to Swamiji's photo adorning our bedroom wall. (Thanks to Kirtee Om ji for the precious gift.) Samil has been smiling upon seeing Swamiji's photo and has been offering 'pranam' by touching his forehead to the framed photo / wall in a very precise and smooth manner! I did not know this practice for some days. Even I was astonished when one morning, I (instead of Sanghamitra) picked Samil up as soon as he woke up and he insisted on this 'ritual'. I was totally awe stuck! Samil smiles (wow! 'Samil' and 'smile' sound very close, don't they?) a lot in general. But he smiles in a different manner as soon as he sees Swamiji's photo and starts talking in his own language! This is quite unique.
Since last couple months, during my 'nitya pooja', Samil is making his 'own sound' as soon as I start chanting 'Om'. Whatever may he be doing, he crawls up to my lap and joins me in chorus!
Samil did not cry during the mundan unlike other kids who were making chaos around him destabilizing the mental strength of other kids 😉 frightening their souls . He was really calm and composed as if he was well versed with the ritual (any link with Swamiji and his ritual of clean shaving the head!). 
To be honest, we had a doubt on Samil's walking ability since last few weeks. Actually, he started walking holding our hands in the 11th month itself. But all of a sudden, he stopped doing the same. And the moment we were letting him off he was sitting down immediately. May be some kind of fear or lack of confidence. Till the day of his 'mundan' he was very hesitant even to try and stand up on his own which set our alarms off. We had decided to consult the doctor during our next visit to ascertain the cause and possible problems. But as if magic unfolded in front of our eyes, Samil started standing up alone on the very night of mundan and after two nights of try, he is now walking independently with confidence. As if some magical power turbo charged him and it is non other than Swamiji himself we believe. We really apologize for our ignorance in underestimating the prowess of your baby, Swamiji. Now Samil has a different glow, aura and level of happiness. He has gone hyperactive with millions of energy quanta.
Similar to Swamiji's trait of adjusting to any kind of situation (as far as we have learnt about Swamiji's life journey), Samil has been displaying similar traits. He is okay with any type of food. He is interested in all kinds of foods and has absolutely no problem in eating smashed apple to daal-chawal to roti soaked in milk to cerelac. Sahil on the other end of the spectrum, has been very choosy in terms of food. We still have to break our heads regarding his breakfast, lunch, snacks, dinner. We remember Sahil vomiting when we tried anything new when he was a baby and the trait still continues.
Samil's glances has become very deep and mischievous just like Swamiji. That glance of Swamiji which pierced my heart right through, is repeatedly observed in Samil of late. Please look at his pics for a moment and you will not be able to deny the fact. Last to last week, when I was in a spot of worry regarding my official work, and was praying Swamiji to help me out, Samil looked at me in such a reassuring manner for few seconds that the most difficult experiment which takes a minimum of a week to set up and execute, got completed successfully in a single day! It was as if Samil was conveying me as I was leaving for office, "don't worry dad. I had conveyed your worry to Swamiji and things will move smoothly. Just go ahead without any fear or doubt. You are being guided."
Samil's mundan avatar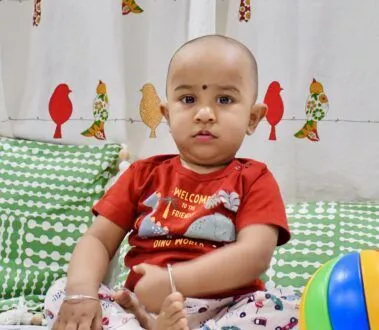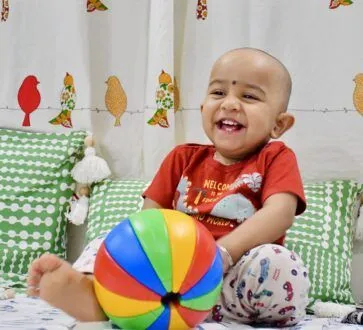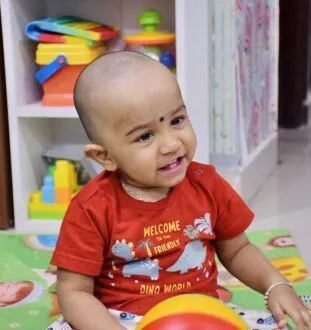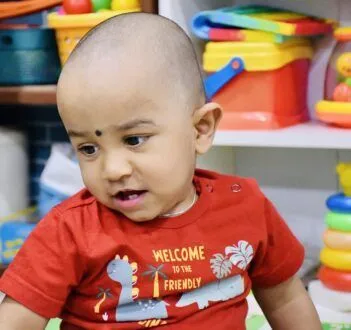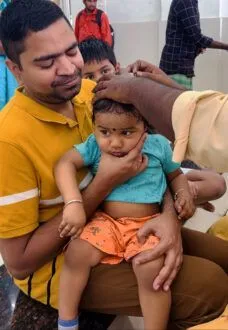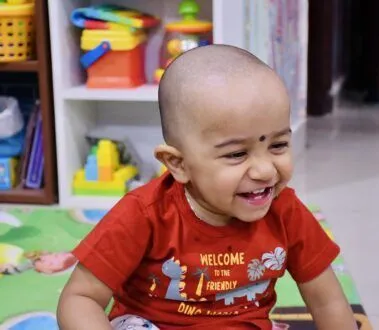 The post has become already very lengthy, testing your patience. With lots of obeisance at Swamiji's holy feet I would like to wish all the readers 'A very happy Shivaratri'. Please don't forget to burn your greatest regret at 11:55 PM tomorrow. Swamiji is praying for all of us.
Jai Shri Hari…
---