Today I stepped into my 42nd Year. Today is my birthday and lots of blessings and wishes i received today.  I always wish to spend my day at some isolated place where there will be nobody between me and my Mother Nature. But it's love and respect by my loved one's everytime that i celebrate this day with my yoga family with their countless love and blessings.
As a token of thanks to my yoga members i think to scribble down something about yoga and me and specially on my spirituality.  I am not a good writer but will try to write down my emotions and experience of my journey so far.  
I was not a yoga boy since my childhood. I wasted my first three decades as a layman and ignorant person who have no any particular aim in his life.  Ten years ago i caught insomnia, BP issues and some heart issue due to my unbalanced lifestyle. Doctors strongly recommended me to change my lifestyle and do some workout regularly.
I felt unhappy because everything was disturbed due to my lazy lifestyle and my unhealthy diet. But atlast in order to avoid any further medicines and any major disease, i decided to join yoga. 
The major obstacle in front of me was to wake up early in the morning. I was the person who didn't want to live life in discipline mode But anyhow for my health issue i compromised with this lifestyle.  I started wake up early in the morning and joined one of the yoga class running near to my house.
I always complaint God for my these health issues. I used to say  him that  i didn't do any immoral act in my life then why these health problems are with me ? I was ignorant about my current lifestyle and instead i think these problems arises unnaturally.
But i realised the results after joining my yoga. I realised that everything happened in our life is for some good. The miracles start going to happened in my life. I started realising the power of yoga. I wish to share these miracles with all of you.
Health issue gone : All my health issues start melting like an Ice in front of Hot water. Never i found these health issues again in my life. And just within 7-10 days after joining i got the excellent  results.
Waking up before sunrise: I started wake up early in the morning and regularity was going to be my passion. I was the first member in my family who wake up early, then anyone in my family.
Change in lifestyle: I changed my friend circle. I didn't like to sit and spend my time now on gossiping and roaming aimlessly. I started realising the value of money, time and my health.
Self Confidence: I was the person who was totally introverted. Even some of my neighbours didn't know my name because i never communicate with them. Yoga bring a huge change in my life. My teacher trained me as a yoga teacher and brought me in front-line to communicate with people and brought a self confidence in me.
Caring the Nature: I started doing some social activities in the yoga class to help the nature in either way we could. We started plantation drive, tending the water in public place, caring of plants at home, sending plants in gifts etc. Dr. puneet gupta always send us gifts of plants for pur whole class.
 Mantra Japa: Just after my marriage i was initiated by our lineage Guru and we were offered japa mala but after yoga i realised the daily practice of my japa sadhana. Now japa is in my every breath. My every inhalation and exhalation are always with my guru mantra and this is my daily practice.
Meditation: One day we got a chance to visit Swami Vivekananda Pyramid Dhyaan kendra with our yoga family. First time in my life i realised the power of meditation. I attended the session of one hour there and during this one hour i was totally focussed on my breath. I made Meditation becomes part of my life. Now I can sit in good posture for long hours with deep concentration and got oneness with divinity. Thanks a lot our respected Sir BR Gupta ji for introducing us towards Meditation.
The blessings of Om Swami: This was my life's second best thing happened to me after yoga came in my life. We got a chance to meet mystic and ascetic Om Swami ji at Shri Badrika Ashram, Solan. I met him in group meeting. I realised celestial vibrations in him. This very first meeting change my life completely. 
Black Lotus App: May be some of our yoga members heard this name for the first time. But this is part of my life now. Basically this is an app installed in mobile phones under the guidance of Om Swami. This app emphasis you to do meditation, japa, chanting, reading books, wisdom and to do lot of act of kindness. And you have to do this on daily basis if you wish to move step further in your spiritual path. 
Persistence- continuity of Streak: On the black lotus app today i reached approx 970 days of continuously streak, means not a single day i missed tasks given by app.It gives you immense pleasure when you lead your path with determination and continuity. You start building your confidence and started having faith on yourself.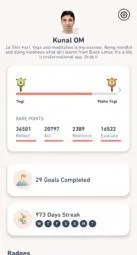 Book Reading: Just as a part of app for some days (old version of app) book reading was compulsory. But then it was part of my life. I started fix some time daily for book reading. I read a lot of books on spirituality. One of my best book was Swami ji's autobiography (if Truth to be told…) Every word in that book is a life changer for me and developed the attributes of compassion. 
Learning  Bhagwat Geeta: i usually thought that if my life is dedicated to yoga then why i have a full fledged business, my family and so on.. In order to find the answers i started reading the Bhagwat Geeta.  This holy book put a great impact in my life. I realised the meaning of law of  karma and karma yoga. God gives us the various ways in it to realised him and reaching at ultimate peace. I found the principles of life in these shaloka. Now on daily basis i chant from one shaloka to one chapter as per the convenience of time. I commit myself to remember these divine Shalokas.
The yoga is my passion, my drive, my source, my power and is my whole energy. As a result of my daily sadhna Now, I  feel some divine powers and vibrations always around me and these are on higher level  when i am on my sadhna mode.  May 18, 1980 may be the day of birth of this Physical Body but actually i got my  true birth on a day i joined yoga.  During my journey so far i met many faces, some are there for some politics, some are there for their fame, some are for more social relations. But truly my quest was for truth only. May Divine grace always stay with me and guide me to reach my destination.
Jai Shri Hari 
The true Gems i get in my journey :
#truth #happiness #love #compassion #meditation #bliss #contentment #divintiy #kindness #giving #peace #purity #stability #dedication #vairagya #firmness #goal #persistence #japa #selfrealisation #discovery #blessings #nature  #onenness #respect #caring #practice
Some golden moments with my yoga family: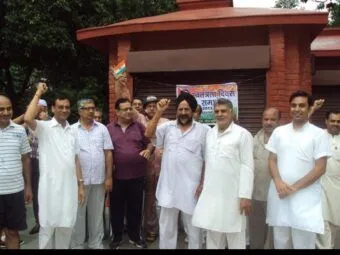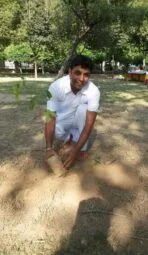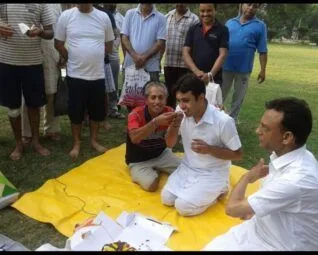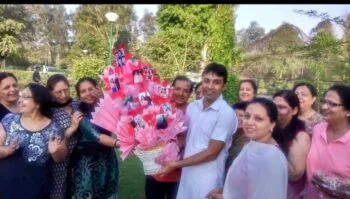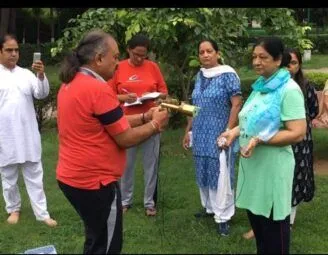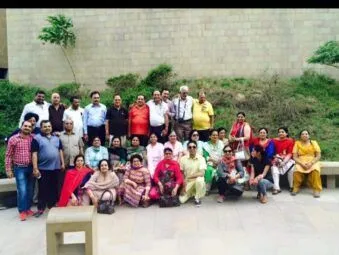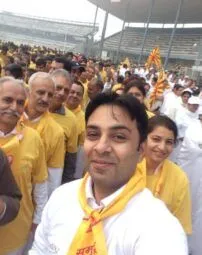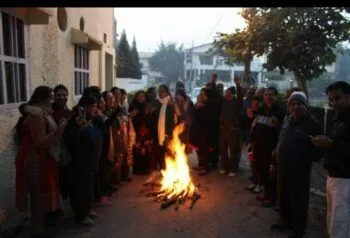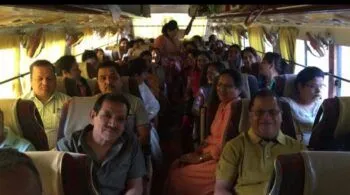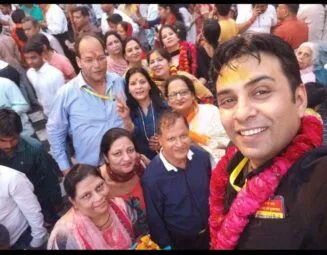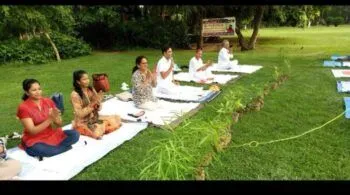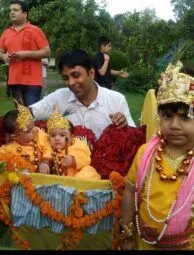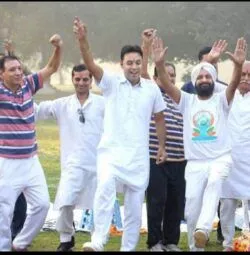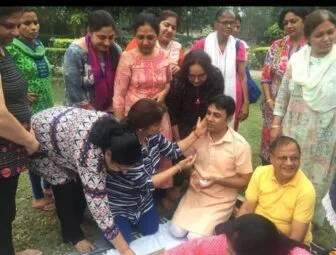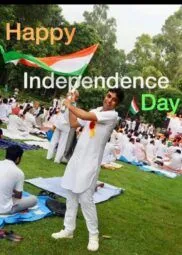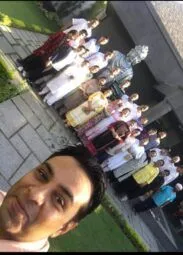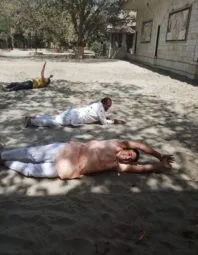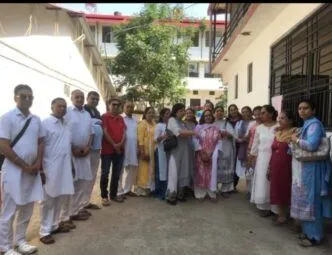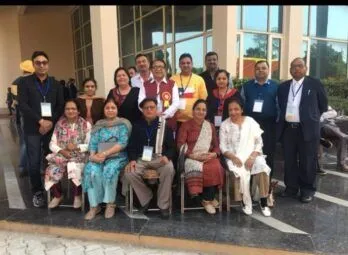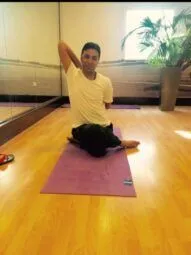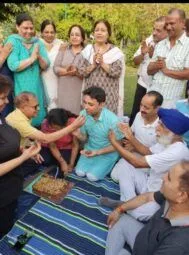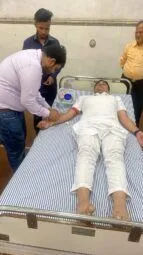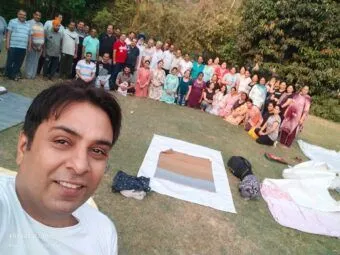 ---