Let me introduce you to Pokar, commercial car driver and owner of a travelling agency in Jaisalmer, Rajasthan.
I met him first when I was still in uniform and posted to the Air Force Station in Jaisalmer. He used to do petty jobs and used to clean the station. Like most other officers, I too engaged with him personally to clean my room, uniform, car, and for other trivial jobs.
Pokar was a dedicated and reliable helper, like most of the other helpers in the station, but there was something different about him. He was never satisfied with lesser work and his zeal to learn was very evident. He wanted to be more and more useful. In a remote place like Jaisalmer, he used to arrange everything that was asked for. He even learnt how to repair music systems, TVs and the mobile phones to cater to the needs of the station members. Most of the officers were dependent on him. The only annoying fact about Pokar was that he used to be absent for days and months, and that too very frequently. 
On asking his whereabouts, he used to say that he went to try for a new job, but came back because he didn't like the work or the environment. Most of the officers thought that he was lying. But I felt that something about him was very genuine. So, one Sunday, I called him to inquire the facts. He told me that he never lied and that he was truly in search of work. He did not like doing menial tasks at the station and wanted to earn more for his family.
I sensed his passion to expand himself and knew that no one could tie him to minor jobs. Since he was not very educated, I couldn't get him into a regular job, but I really wanted to help him. So I asked him if he would try car driving. The spark in his eyes gave me the answer, but he had no money for the professional driving school. I offered to pay for all his expenses. He readily agreed, and that day the station lost a wonderful servant. I couldn't verify his progress as I was soon posted to another place. I even lost his contact.
After three years I got a call from Pokar. He wanted to thank me on the inauguration day of his travelling agency that started with two more drivers and cars under him. I can't express how happy I was. Since then, we are in contact, and he keeps telling me about his progress every year with a greater number of cars and drivers. He even invited me to his village when he got married and bought a new house.
After completing my tenure with the  Air Force, I registered my company and started working. My company's profits never gave me as much happiness as the progress report of Pokar's agency.
I feel that the need of giving is much stronger than the need of taking. This gives us more meaning and significance. Many times, we have bought new dresses and things for ourselves but forgotten their pleasure after a while. Even a new car loses its charm just in a year. But I still remember the new saree I bought and gave to my maid on her marriage. Her beaming smile was so satisfying.
I am truly thankful to God for giving me the opportunity to be a part of success story of Pokar. People may say that I am bragging about my good deeds, but my point is we all have such great memories of giving. These memories are like precious stones and their shine will never die. 
See the status picture of Pokar today with his wife 🙂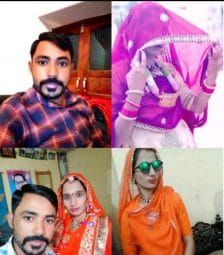 Jai Shri Hari 😊
---