Sastang dandavat at your lotus feet Swamiji.
Almost a year ago, 0n 29th December 2021, Swamiji blessed us with Samil. We became parents for the second time. Though we had an inclination for a baby girl, maybe we are raising Sahil (a boy) in a good manner, so the girl project was converted to 'project boy' and we landed up having another boy. Though Sanghamitra was a bit disappointed and 'ordered' the operating doctor to take the baby boy away, we all settled well with Samil and he also owned not only us, but the os.me family in general. Within 3 months of his birth, he visited Sri Badrika Ashram and played in Swamiji's lap. Really how much 'Sadhana' this lovely soul has done to achieve this fate as soon as it got a physical body! We cannot be more thankful and grateful to the universe for having Samil, the happy baby. Various facets of Samil will make you happy also.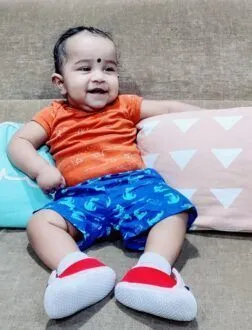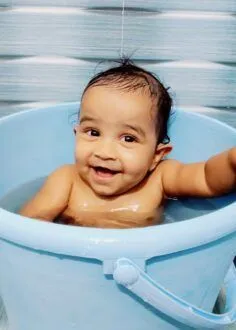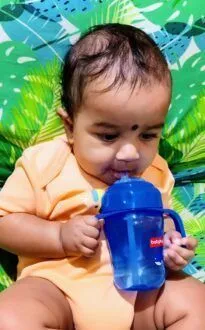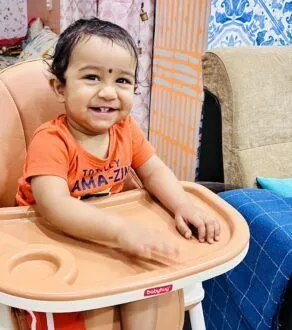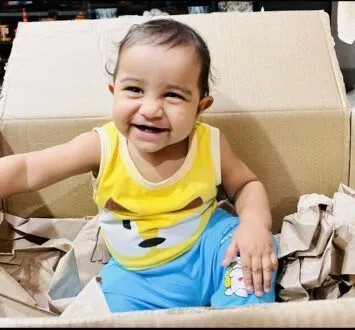 The jolly Samil always lifts our spirit. We treat him as an adult at various times. He never disappoints us. Even if his lunch or snacks time is delayed, he does not create a scene. He patiently waits as if he understands our situation. At times, his looks tells a lot.
As I mentioned in several of my blogs that, we consider Samil as Swamiji's baby, Samil has really shown that he fits well to the idea. In the last one year, Samil has minimal illness, maximum co-operation, he has never made us go anxious, Sanghamitra never worried leaving him in the creche. As if Samil has understood our situation and adjusted himself in the creche. He never cried even once when the 'aaya' in the creche takes him from Sanghamitra right from day one. Even he likes the Pooja room and many-a-times sits on my lap during the time I perform Pooja.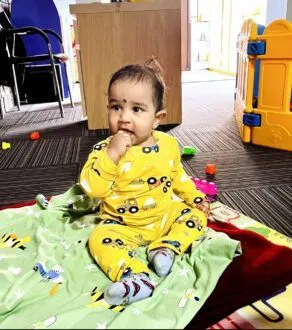 A playful Samil at his daycare.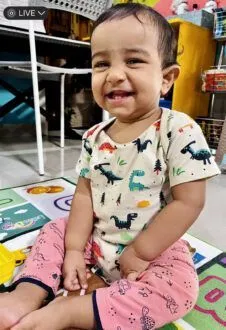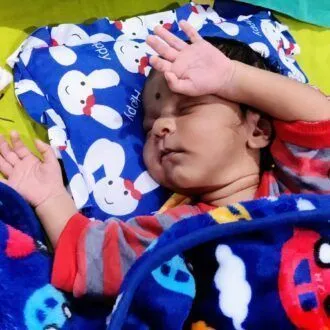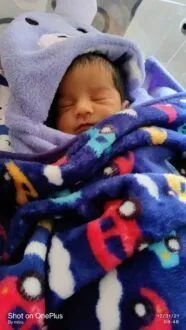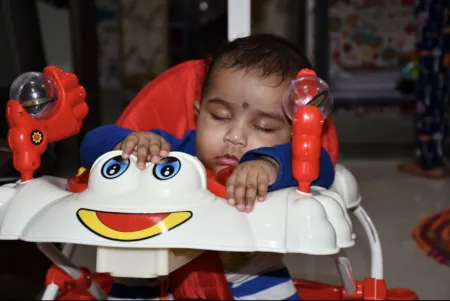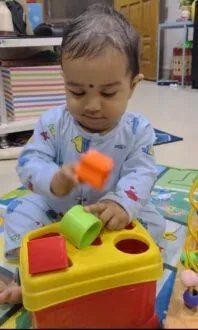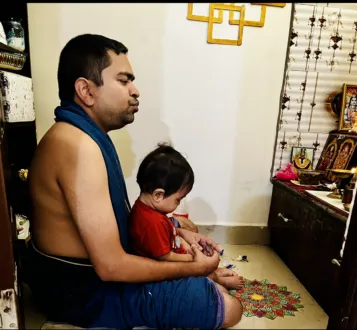 Samil's bonding with Sahil, the elder sibling is worth mentioning. Both wait eagerly for each other to meet after coming back from school / creche. Samil follows Sahil wherever he moves inside the house, likes to disturb him while he plays keyboard. Samil plays the keyboard like 'tabla', beating it left and right! They are just inseparable and they love each other's company pretty much. While sleeping, Samil loves Sahil's company with hands, legs all spread over! We are indebted to the universe for providing us Samil who has made our home a happy place to live in. The sibling bonding is great. We would like to make a point that, age difference between siblings need not necessarily create a problem if we, as parents, inculcate the feeling of love, affection and belongingness between them. The following pics tell the entire story and Bro-code between the two.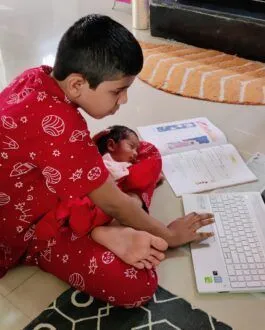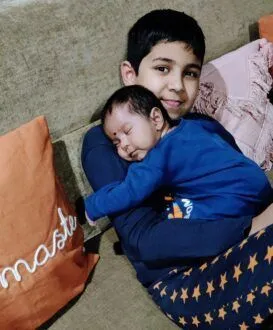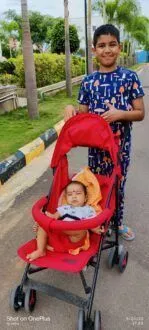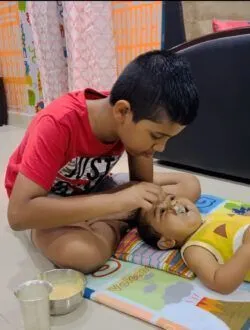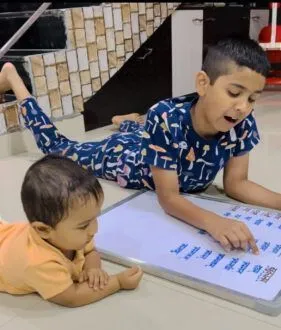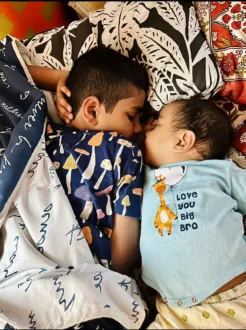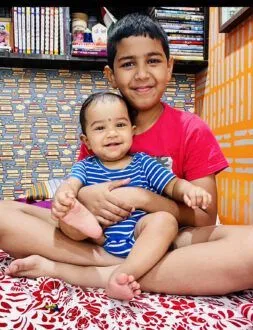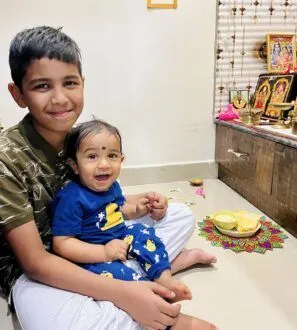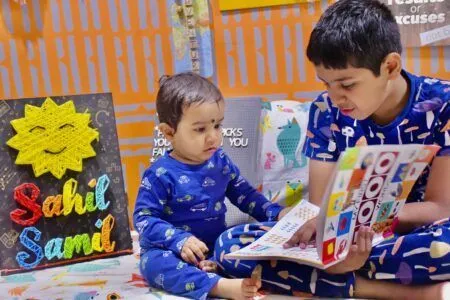 Samil has made us even more responsible as parents. We are now able to handle things better without worrying much. Samil is such a darling and his smile is magical. His one smile drives away all the tiredness of a day's work. He rejuvenates our spirits. Samil first prepared us to be ready to handle another baby after almost 10 years. He drove away my Car Driving phobia, my inherent strength to fight challenges, have the enthusiasm of a child at heart at the same time a more mature mind. He drove us to follow fitness regime. We both have lost several Kgs of unwanted weight and are fitter than we were. We are more tolerant, are able to do more work, plan more accurately. Now Samil has started walking by holding our hands. The manner in which he leaves an object of support and holds our hands shows how confident he is that we will never let him fall down. It is his belief which makes us even more satisfied from within.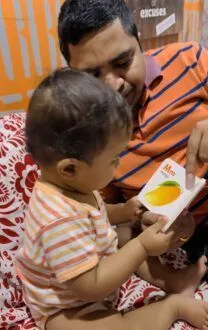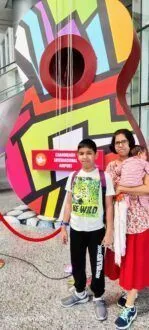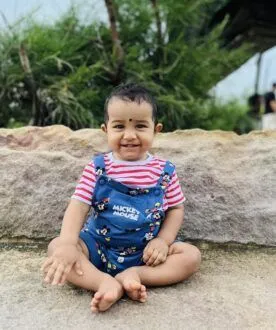 We are celebrating his 1st Birthday on 29th. On this occasion, we would like the entire os.me family to bless him.
Thank you all and gratitude for reading the post. Jai Shri Hari…
---