Sastang Pranam Swamiji. Let me continue from where I left in Part-3.
The sleep was so sound that we were completely refreshed the next morning. And we woke up early in the morning to the burbling of Giri Ganga river. We finished up our morning routine and then headed to the dining hall for taking breakfast. Nice, tasty poha was ready for us with fresh apples. Tea was also available. We all took our breakfast to our heart's content and then we called on Kirtee Om ji.
She asked us about our plan, and we conveyed her that we were interested in visiting Giri Ganga river. We invited her to join with us and she accepted the proposal gladly. We embarked on the downward journey to the river. On the way, we saw the Yagna Place of Swamiji. Kirtee ji was kind enough to carry an umbrella to save Samil from the scorching sun. Once we came close to Giri Ganga, Sahil became very much excited to get into the water. I was also very excited to see the serene and sublime appearance of the river.
The river had two streams. One was a narrow one and after some gap, another broader stream was flowing. I put my steps in the water and wow! It was so cool and gentle. I felt all my worries getting washed away by the gentle touch of the flowing river! Kirtee ji, Sanghamitra and Samil were sitting on the riverbank in the shade of a tree. Meanwhile, Sahil and I ventured into the water and slowly crossed the narrow stream to reach to the broader stream. The space in between was full of polished rocks of various sizes brought by the river. Unless you are grinded by the situation, you cannot get polished and come into shape – This is true for our lives also. The more we get rubbed, the more experience we get, isn't it? We took some nice pics which I am sharing as below.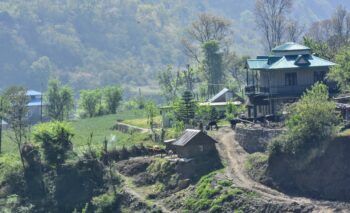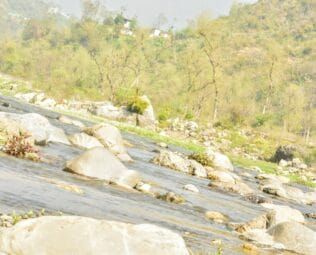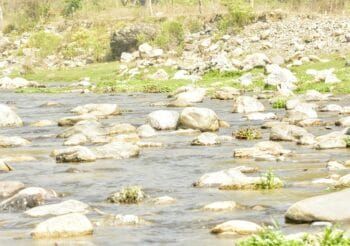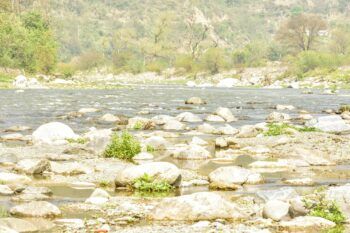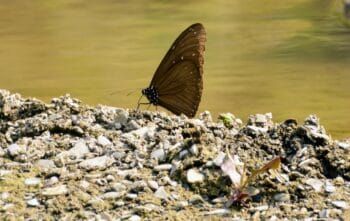 After sufficient aquatic time, as the sun started scorching more, we decided to return. Descending the hill was easy, but ascending was difficult and carrying Samil in my solders, I was too tired by the time we reached back to our room. I was sweating profusely and switched on the AC to relax. Then we all took bath again and got freshened up. Then Sahil and I, headed to the large Chess board to play some games of chess and we discovered it to be a lot of fun. We were really surprized to see the cat at Ashram which resembled the missing cat 'Furry' about which I had written a blog. Sahil exclaimed that Furry had been missing as she came to Swamiji before our visit! I am sharing the photo of the cat vis-à-vis Furry.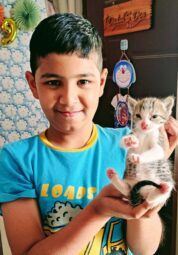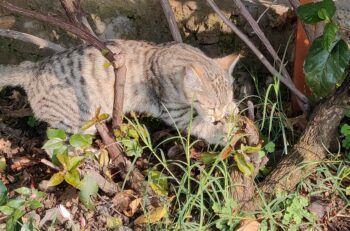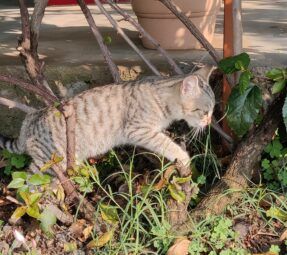 At 12 noon, we headed for lunch to the dining hall. The aroma of the food was very enticing. We were served fine Basmati Jeera Rice, Chana dal, Puri and a veg curry. We savoured the food. After finishing my lunch, I came out and was totally astonished to see Sadhvi Vrinda ji in front of me. She was consoling a lady. And she was very much compassionately doing the same. After a brief wait, I approached her and introduced myself as the guy who sleeps putting her best seller (but I should term it as 'best healer'😊) book "A Prayer That Never Fails" under my pillow.
I was assisted by Madhavi ji who elaborated my point even more (Madhavi ji is very good at explaining things). Madhavi ji was putting on hard work in the kitchen cutting vegetables and assisting the cooks. Anyway, Sadvi ji was kind enough to hear my blabbering out and all of a sudden, I started crying. She consoled me like a motherly figure. She told me to let go the past. Let go the low phase and make peace with it. She reassured me that everything was in-line and Shri Hari would take care of me and my family as we have surrendered at the lotus feet of Swamiji. She was very happy to see Samil and blessed him. In the meantime, Sanghamitra came out finishing her lunch and her eyes also went moist. All she told Sadhvi ji was "Thank you and can I hug you?" to which Sadhvi ji replied playfully," COVID time, we have to maintain social distancing, but I can risk COVID to hug you 😉). On the way back to our room, we met the ever-smiling Raghu Swamiji who too happens to an Odia and spent some time with him!
(To be continued…)
Jai Shri Hari…
---