Sastang Pranam Swamiji. Let me continue from where I left in Part-5.
As the Meeting room door of Swamiji opened and we entered into it on the indication of Vidyanand Swami, the atmosphere was electrifying. Swamiji was sitting on a throne type arrangement, but it was very simple and comfortable one. He greeted us with a smile which is etched in my heart. I was bamboozled, my feet refused to move. It was like an electronic machine coming to stand still under the fire of an electromagnetic pulse burst. The blanking pulses were so strong that my mind was frozen. I kneeled down at once.
Let me give a vivid description of Swamij's appearance in the room. At the time of discourse Swamiji looks glorious, but in the closest possible personal darshan, he looks totally different: extremely composed and divine. As if a 'Devata' has descended from the heaven and is sitting on earth to shower immense blessings and pure bliss and affection. If he holds a bow and wears a crown, he will be a cent percent match of Bhagwan Ram's Avtar. In fact, he is. The room had two tube lights, but Swamiji's glow and 'tez' was like a sun. The room was illuminated with intense light. Swamiji's divine tilak on the forehead, his beautiful smiling face, his perfectly arranged teeth like a well decorated set of pearls, his god-like beautiful and long fingers (on both the hands), his dazzling cream ochre robe (the amlan vastra which never catches dust, worn by Pitamah Bhishma), his well-shaped physique, his Patty Chappals (खड़ाऊं), all are beyond description. You have to witness to understand what I am describing. I could not look at him for more than 5 seconds at a stretch as I could not withstand his laser sharp aura.
(Note: Swamiji gives 3 minutes time for a personal meet. As per Swamiji, it takes him only 6 seconds to scan someone for all the required data of current life and past lives and he does whatever is required to improve one's life withing that span of time. And providing 180 seconds i.e. 3 minutes which is 30 times more is only his kindness. So please do not assume that 3 minutes' time is less. Actually, for Swamiji, it is an eternity. We do not need to tell him anything about us. He knows everything beforehand. Please mark my words.)
Sanghamitra, being worried about Samil's crying, went directly to Swamiji's lotus feet along with Samil and Sahil. She also became very emotional and started crying. She went on adding, "Swamiji, this (Samil) is your child as he came into our life after your blessings. Please bless the baby. I am putting him at your lotus feet. Aap ke charno me thodi si jagah de dijiye and she was about to put Samil at his feet. But very affectionately, Swamiji replied, "Mujhe godh mein de dijiye!" What a smooth and reassuring voice as if God is directly speaking. The way in which, he took Samil into his lap was magnificent. He held Samil's backbone in a straight manner with his right hand and supported his head on his left palm. Even we lack the ability to hold Samil in such caring manner. I, Sahil and Sanghamitra were totally stunned!
Then in a very calm and soothing voice, he consoled the crying Samil, "Kyun ro rahe ho, beta! Saab thik ho jayega. Tumhara sab kuch achha hai." And he started cuddling Samil like the divine mother. To our utter surprize, Samil became calm at once and started looking at Swamiji's glorious face with a smile. The way Swamiji was nurturing Samil, we could see the divine mother figure in him, his eyes were filled with love and affection which cannot be fathomed. The below picture taken by me with the kind permission of Swamiji will give all of you the feel rather than I, writing a zillion word.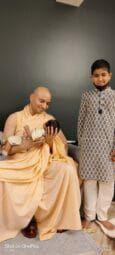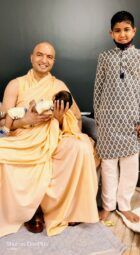 Please write in comments how Swamiji looks in the above pic. We are very curious to know…
Before this, I was crying inconsolably at Swamiji's lotus feet. I was remembering all those dark days of my low phase in 2020 and was trying to let them go away peacefully in the presence of Swamiji. I almost wetted Samiji's mat with my cry 😉. Sahil also started crying. Sanghamitra expressed her gratitude to Swamiji, "it is your bless and grace Swamiji, that today we are four. We were on the verge of becoming two (as I was contemplating suicide and even futilely attempted it too). Our family would have been reduced to this mother (Sanghamitra) and the son (Sahil). But your apar karuna expanded our family to four! We learnt addition with your grace." After which, Sanghamitra also exploded into a pool of tears.
Swamiji reassured all of us very calmly, "Mein dekh raha hoon na! Aap aisa kyun soch rahe ho! Aap logon ka kuch bhi problem nahin hoga." By the time, I was crying even more viciously and Swamiji, while cuddling Samil told very fondly, "beta tum bhi ro rahe ho aur tumhare papa bhi ro rahe hain, kisko sambhaloon aur kisko samjhaoon 😉." What a compassionate voice! I had never heard anything divine like that before.
And then the anhoni happened…
(To be continued…)
Jai Shri Hari…
---