It was September last year when I woke up to fever, headache, body ache. The dreadful thought crossed my mind and as destiny would have it I was detected Covid positive after two three days of deep contemplation as to should I do the test or not🤔.  First few days dived in fear of spreading the infection to my family members, anxiousness of getting the correct treatment, haziness of not having any first hand information finally settled into normalcy of family members getting spared from infection and me starting with not so perfect treatment. As luck would have it , my quarantine got extended due to few complications, but, but, something magical was waiting for me during this time.
Can you guess? It was Swamiji Grace I was being introduced to  by Divine Will. While in quarantine I had ordered Swamiji's autobiography If Truth Be Told from my library. Reading that ….well…its unexplainable. Those who are here after reading books by Swamiji  would probably understand.
Apart from binge watching Netflix series (of course it had to be 😄I was not that disciplined then you know!) I started watching Swamijis videos regularly. It brought about such respect for Him that I could not, NOT follow his teachings.
I started with meditation as though a  force was pulling me towards it. Having no slightest idea about how to do it still, trying to follow Swamiji through his videos. With dual mind that once out of quarantine how could I find time for meditation but still went with the flow and kept doing it.
It's been 6 months I am following Swamiji's teachings through to his videos,  books ,BL app and os.me. Never felt so light hearted.
But why the name of the post so? Yes, exactly because I am detected with the same virus …again but at least  asymptomatic. Now again in quarantine and thinking how to make it magical ,so came up with the idea of writing my first post here or any where else. By no means I am a writer or a story teller, hope this at least is readable .
Had I been a pre-Swamiji version of of myself ( don't know how else to put it) I would have been sulking in disappointment, anger, anguish about being infected second time. But Swamiji's I grace is all encompassing. I would like to switch my status  from covid positive to only feel  POSITIVE.
Thank you for reading this.
All Glories to Swamiji🙏
Attaching my quarantine friends pictures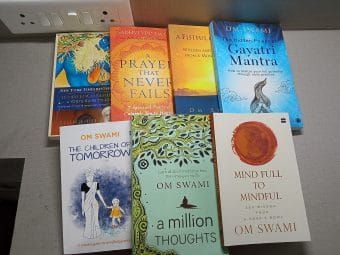 ---