As Swamiji paced slowly into the temple at 6 PM sharp, every devotee was offering Him pranams, some in silence, some teary-eyed and others vocal enough, which I was not a part of, given by my analogy- what was the need to convey the pranams loudly  that could be very well heard by Him even if delivered mentally?
But then again, judging someone is not the way of the Divine, it is only a petty mind like mine which  thinks this way. The Divine envelopes each and everyone unconditionally, and whoever comes under Swamiji's shade has experienced this some or the other time.🙏
  Swamiji offered His pranams to Sri Hari and then comfortably settled himself on His pristine white Asana.The very first thing He did was to lovingly ask the question that makes our hearts skip a beat in our excitement. "Kaise ho aap sab log? How is everyone?" Everyone beamed in reply.😍😊
 He has that magic that makes you comfortable immediately, makes you feel welcome and loved. On most days, Swamiji takes  direct questions from devotees. During our first visit, a small box was hung on the wall  near the door, and one could submit the questions beforehand, and from the chits, Swamiji would pick  up the ones He wanted to answer.  Listening to Him is something that one can never have enough of. He answers each question with such simplicity that it connects with you immediately, yet whatever He says is  profound and divine, much like Himself. There is that indescribable sweetness about His speech and smile, absolutely Entrancing! Swamiji gave his unparalleled insight on various topics, while we sat mesmerized. So much so, that little did we realise it had already been an hour since he had arrived at 6 PM.
At 7 PM, He was ready for the Aarti. After tuning the  piano, He started singing Bhagwan's glories in the form of the Aarti in a melodious voice- a voice like none other. Listening to the Aarti is an ethereal experience. I vividly remember one evening when Swamiji told everyone in the temple not to say Jaykara after Aarti as Bhagwan was sleeping.  He told us that the Aarti is like lullaby to Bhagwan, and so we all should not wake up Sri Hari by our loud jaykara.  I was literally spellbound! I mean, ordinary beings like me wouldn't think of a stone idol sleeping, but for Swamiji, it's no idol- it is Sri Hari Himself standing there. And now, it is for me too.🌺🙏
 The amount of grace we received in the first visit was bounteous.  ( and it continues till date, we live in immense gratitude with His Grace at all times)
After the Aarti, Swamiji sang a few Bhajans. He played on His piano while singing, the first Bhajan was Madhur bansi baajat. I swayed to the tunes as they resonated within me- His fingers moved flawlessly on piano and  sonorous voice was  singing the beautiful lyrics.
Once, Swamiji told everyone that His  Bhajans are not there on his YouTube channel, the reason being that He sings for Bhagwan, and  Bhagwan alone!😊😊
During our first visit, the only familiar faces were the ones  about whom we read in the books. So naturally, we knew Swami Vidyananda (always in Swamiji's personal service), Swami Parmananda (used to be His personal assistant,  now does not stay in Ashram anymore), Swami  Raghavananda (looks after temple, puja and Abhishekam etc.), Ma Shamta and Sadhvi Vrinda (Ismita Tondon back then) and also, Swamiji's family members from Purvashram. 
Now, all of you  already know that it was Bhavita's birthday. As I had read in As we know Him, I was sure that Swamiji reads minds. Though I was  engrossed in Swamiji's aura, in one corner of my mind, I continued to expect that any moment Swamiji would wish Bhavita! Every now and then I would be pretty sure that He would wish her this moment, now…now…  I waited and waited  and waited.  When Swamiji got up to leave , I found my heart sinking in despair.😟 Oh! This couldn't  be real! The kind of experiences I read in the book, I was sure He knew all about it, but then again, I thought, probably the problem was at my end. Perhaps I was not worthy of such Grace.😔  Around 7.30 pm, Swamiji did the closing chant and called it a day.
After Swamiji left, we went up to Mata rani- Swamiji's mother, to pay our respects.  After getting to know about Bhavita's birthday,  she immediately said, "You should have told Swami! He would have sung happy birthday for her in the temple!". We were indeed happy to receive her blessings, but my heart felt that tinge of despair again…why didn't Swamiji wish her then? Who was the child here- Me, or Bhavita? 🤔For  Swamiji, we both are, I suppose 🙂 (Now that I look upon my foolish thoughts, I can only laugh at myself.)🤭
The moment we stepped out of the temple after taking Prasadam, someone called us. Who is he? I remember thinking as he walked towards us. We only knew a few beings, as mentioned above, so we were naturally beyond curious to know who this person was. That person turned out to be Suvi Gargas, or Suvi ji, as everyone addresses him- he is related to Swamiji from Purvashram. (Swamiji's brother in law, for he is His sister Upasana didi's husband.) He spoke very gently and has  a truly pleasing personality. He enquired about us quite lovingly and I clearly remember how he exclaimed at the fact that  during our very first visit, we had been blessed with Bhagwan's Abhishekam.  And then he said something which absolutely took my breath away. "It's your daughter's birthday today, isn't it? Here's a gift for her."
I remember gaping as he gifted her a pen bearing Swamiji's image and a socket light with His picture on it, telling her to use it as a night lamp in the room and He will light up the room. 🥰Little did I know, besides the room itself, the smiling saint in the picture would light up our lives for lifetime 🙏🙏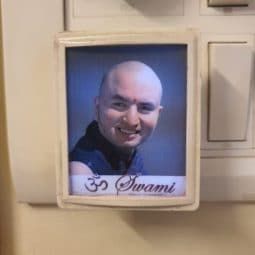 The beautiful socket light gifted by Suvi ji.
One might ask a million questions- How did he know? Who sent him? Now, I suppose you all know the answer. Compassionate, incarnate Swamiji had fulfilled my silly, childish wish in no time.  Mysterious are the ways of Divine and we were blessed to have His boundless Grace.🌺
 After the wholesome day, we looked forward to another glorious day ahead, all the more special- for it was the day we would to meet Swamiji in  person through our personal meeting arranged . I could barely sleep! 
In sheer excitement,  we woke up early at 4:00 AM and chirpily queued outside the dormitory washrooms  to get ourselves ready. We got to meet various devotees there, each sweeter than the other, from countries and  cities different, yet we were all woven with the sacred thread like name of His, a name etched into my lips and heart- Om Swami. 
At 6:00 AM, Vishnu Sahasranama was to be chanted in the temple, and so we set off. I remember the beauty of that glorious morning as the temple reverberated with absolute divine energy and Bhagwan looked lovingly resplendent in his gorgeous blue vastra and garlands.
I remember my heart beating double time in anticipation for the following day. Punctual to the core, as He always is, He entered temple at exactly 7 AM sharp and proceeded for the morning Aarti, which is indeed a memorable experience.  In the morning, Swamiji sings the Aarti without the piano- it is truly a sight to behold to see Him doing the morning Aarti, for one gets transfixed, watching Him swaying to the beauty of the lyrics in his lilting tune and voice with which the temple resounds as if the Devtas were singing from above. Every devotee was trying to get glimpse of Him singing to Bhagwan, the longing and aching for Him in everyone's hearts palpable beyond measure.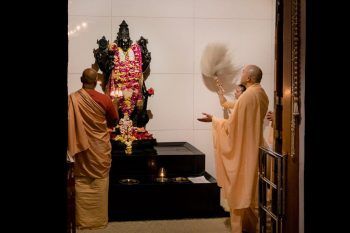 Swamiji singing morning Aarti
After that, He imparted his divine words to us in the form of a thirty minute discourse, and we listened on, delighted, for we could never get enough of Him. I mean, honestly, who can? Swamiji explains even   deep knowledge in the simplest manner & in between He would crack  jokes giving rise to riot of laughter in the temple.  Back home, we keep rewinding those gems & laugh heartily remembering those humorous words😁😁
When Swamiji left,  Ma Shamta stood up  and in her soft, sweet way, announced the slots for the meetings. Since ours was just the third slot, we quickly took a bite of breakfast and proceeded towards meeting room, puffing and panting (The ones who aren't used to going up and down the ashram will definitely find themselves so. The same kids of mine who complained about the height, now  walk over to the dining room to look for Teju the dog and Ena the cat.) On that particular day, the meetings were held in Ma Shamta's room, and Ma was guiding devotees inside. Swami Parmananda was standing there with a stopwatch- literally! Everyone was allowed few minutes of time in His presence. 
It is only Swamiji's boundless compassion, that He manages that much time for everyone who comes to see Him from far and wide. Everyone who knows Him is well familiar with His taxing routine. Even a moment  spent with Swamiji, one cherishes it for a lifetime and we were granted a whole few minutes!❤🙏
Hearts beating faster and faster in excitement and minds full of unknown, unparalleled  joy, I remember how nervously we were sitting on the chairs outside when we heard Swami  Parmananda's voice.
"Vashishtha family?" 
To be continued……
A/N: My heartfelt thanks to each & every reader for encouragement to a novice writer like me, probably that's what family is all about….And immense gratitude to my darling Hemanya for being such an amazing editor ❤ 
---