Darshan
Our lodge was just above the 'Govinda' restaurant. After getting down the stairs of the lodge, the temple was on the right-hand side at a walkable distance. On the left-hand side was the entrance to the restaurant. 
Before even my alarm can blow its horn, I woke up. It was 2:55 am. I slowly got up and searched for my stuff to take it to bathroom. I think I did disturb S Mataji and her parents. Sorry for that. After taking the bath, I met N Prabhuji moving towards the bathroom. At 3:25 I was in the temple. Shri Krishna was fast asleep and His aarti was about to happen between 4:30 am and 5 am. In the courtyard, there were some 4-5 people busy chanting – 'Hare Krishna Hare Krishna, Krishna Krishna Hare, Hare Rama Hare Rama, Rama Rama Hare Hare'.  I roamed around the courtyard and paid my respects to Shrila Prabhupad. I had brought the Itra from my hometown for Shri Krishna and also pure saffron. I went inside the back room, and met one of the senior priests. I gave him my gifts and asked him to offer to adorn the Lord with both of them. He received them with a smile. 
The courtyard was fairly big. On the front was Shri Krishna's altar, with Lord Chaitanya and Gaura Nitai on his right and Gopalnathji on His immediate left. On further left was another altar for Lord Narsimha. On the left-hand side of the entrance, was one spring on which Lord Krishna's photo was there. There was also a small basket, in He was sitting in his child form and had all His toys with him. Lord Jagannath, Subhadra Mataji and Baldevji were also on the left. Just opposite to them on the right-hand side of the entrance Srila Prabhupad sat with his alluring smile. Also, on the right-hand side we had a wooden chariot with Lord Krishna and Arjun. The courtyard had beautiful wooden flooring. On the roof and the walls there were pictures of Lord Krishna's pastimes. Several    pillars with symmetric carvings supported the roof. There were benches where people can sit and in one corner some mats were there, that could be taken to sit on the ground.
At around 4:15 am, Vinod sir, S Prabhuji and N Prabhuji arrived in the courtyard. Lord Krishna made his angelic appearance at 5am. Pleasing, sublime, radiant, ravishing, elegant, exquisite, charming, fascinating, dazzling, resplendent, enticing! Period. My vocab proved to be too small before my feelings at that moment. Sorry Radhaji, Lord Krishna took all my attention! So how they all looked? There you go…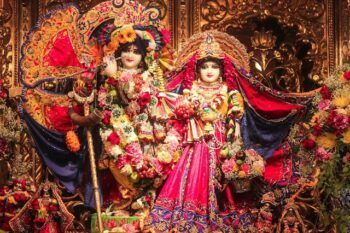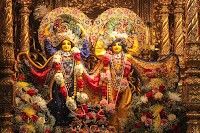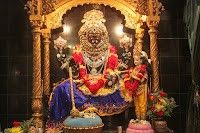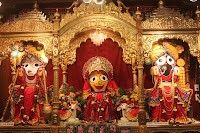 I was standing behind the main singing priest, while the mridangam player was beating his mridang with full force. The aarti took some time to gain momentum and then it was like lot of energy being generated (through singing) in the courtyard. Vinod sir had moved very close to altar. All the devotees were singing the aarti with a lot of enthusiasm (that's an understatement). The aarti went all till 6 am and it included aarti of Lord Narsimha and Lord Jagannath (respectively left and right of Lord Krishna in the courtyard). I had never heard such energetic aarti before (except at Somnath Temple in Gujarat, India in Nov, 2011). I was lucky to compliment the singer priest later on. 
At the end of the ceremony the main priest arrived and requested for some volunteers in the kitchen. I had no experience, so I went ahead and offered myself for any suitable job. I was relieved to see N Prabhuji and S Prabhuji also in the kitchen. Both of them were taking care of cutting oranges for breakfast. My job was to cut tomatoes. And I think Shri Krishna wanted me to become perfect in that so I cut two big baskets :D! At one time I thought whether the tomatoes will ever end. 
In the kitchen there were other devotees busy helping. One of them looked like a WWF fighter (not trying to make his fun, but that was my first perception) and I really thought that he was a professional cook (looked similar to ones we see in Indian movies). I met one Telugu devotee from New Jersey. I can't sit silent for long, so I had a good time interacting with devotees there. 
After the morning breakfast we had lecture from a senior Guruji from Mayapur, India. He narrated some stories about Lord Krishna. He said that it is written in Vishnu Puran that when Lord Krishna's devotees prepare for a feast for glorifying Lord's name, then, at the same time He also prepares for feast for all his devotees. He narrated the story how Mahatma Gandhi and Sardar Vallabhbhai Patel met a Sadhu in Mathura, to whom they asked why India is not getting independence, in spite of such sincere efforts on their part. Sadhuji told them that the ventures that do not glorify Lord's name, cannot find success easily and even if success is there, it is short lived. After that only Mahatma Gandhi started his song in his preaching that we know as 'Raghupati Raghav Raja Ram, Patit Pavan Sita Ram…'. After that only they were able to find success in their venture.
He also talked about Srila Prabhupad's dream temple in Mayapur, that is up for construction to complete by 2017. He said that Srila Prabhupad said that even though he is in USA, but his heart was in Mayapur, India. He asked all of us to contribute to the temple.  He told the story when he was in China some time from now, and he asked for devotees help to build the temple. To his amusement, a little girl also raised her hand to offer help. He asked her how and she had a perfect answer. She said that she will collect all her money from her birthday and donate for the temple. Inspiring. 
Before the 24-hour kirtan began all devotees visited the Palace of Gold build for Srila Prabhupad. I enjoyed the kirtan for some time. It began around 11 am. Two senior priests, sitting in the center of the courtyard of temple, were singing- 'Hare Krishna Hare Krishna, Krishna Krishna Hare, Hare Rama Hare Rama, Rama Rama Hare Hare' and other devotees repeated after that. There were 2-3 devotees on mridangam, one Afro-American devotee on flute, one American on guitar and rest on other instruments. On the whole the name of Krishna and Ram were floating in air and all devotees were completely submerged in that. I stood close to the altar and looked at Lord Krishna, incessantly. 
During the day, I also got to see U Mataji and her family. Also, I met S Mataji and her parents and daughter in between. Earlier in the evening I had some interaction with her daughter Rijula, who seemed a very quiet child. She had a little elephant, whom she always held with her. I once stole it from her and she kept on asking for it. Later she took it. Also, in the afternoon, I had a small chat with S Mataji's mother and she explained how she used to live when her husband went out for 1965 war. Yes, I was enthralled to hear that I had a veteran war hero was my roommate for a day. Her husband had his retirement from Indian Navy! 
I also had dialogues with V Mataji (Vinod sir's wife) and little Tulsi. She is one cool child. Always playful. I loved to spend time with her. 
Later in the afternoon I took my camera and went out for a walk.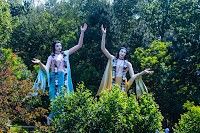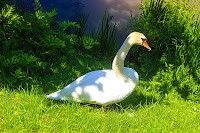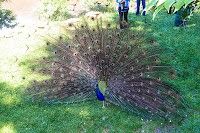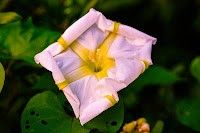 I visited the kitchen few more times during the day. In the afternoon, when I was there, I met a Prabhuji from Belgium. He had visited Mumbai ISKCON (Juhu probably) and Jagannath Puri. 
I advised him to visit Mathura Vrindavan and Dwarka in his next visit. Another time I met one more Telugu devotee from Virginia. He had been visiting the temple since 2008. I also met S Mataji (wife of N Prabhuji who came from Washington DC, Vinod sir introduced him last evening).
There were also devotees who were not Indians. And the main one was our chief cook. He proved to be an effective manager of resources and kept all of us busy. And he took care that he also was also busy cooking! N Prabhuji (the one who travelled with us) asked his name. He said – 'Gaurang Prasad' in American accent. Then someone asked him – 'What do you do?'. 'Cook for Krishna' – a prompt answer indeed. He was a tall and humble guy. His looks reminded me of Matthew Hayden (Australian Cricketer). Later he told he was from Gainesville, Florida. He was about to visit India in October. I asked him what his name means. He told me 'Beautiful' or 'color of gold' and name of Chaitanya Mahaprabhu. I remembered that as name of Lord Shiva so I told him the same. Later he hailed – 'Krishna is going to have a feast today!'.  He also explained me why we address people with 'Prabhuji'. I was of opinion that only Lord Krishna should be called as 'Prabhu' then why general public is addressed in that fashion. He said that The Lord is 'MahaPrabhu', hence the difference.
In the evening, there was one American Mataji who made chocolate cake, banana cake and coconut cake. Gaurang Prabhuji had his own Krishna statue in the kitchen, to which he offered the prasadam. I also got a chance to have the chocolate cake for dinner, and it was incredibly tasty. After all, it was for Lord Krishna, who is the Supreme Enjoyer so it had to be tasty. 
Later in the night I came to attend the kirtan again. It was going on in full flow. Possibly there were around 300 people in the central courtyard. I am not sure of any Sur or Taal or anything, but the music was very soothing. In between, it became very fast and people had started to dance also. T Prabhuji (from Washington DC) requested me to dance, but I humbly declined. I wanted to share some videos but have now lost them.
In one of the videos there was one devotee, with whom I got a chance to interact the next day, just before leaving. He danced as if even he falls down, or trips over someone, Lord Krishna will hold him. I had never seen such a devotee earlier in my life. 
I went to room at around 11pm. Another eventful day lay ahead of me.
---