It was a quiet late January night. The wind was less chilly. My mother was sitting in the living room silently witnessing the twilight. This is the place where I spent the past 28 winters of my life and yet the night seemed a little different. As I sat beside my mother, without taking her eyes off the old Banyan tree outside, she said, "Arjun had the opportunity to witness the grandeur of Krishna. Hanuman worked intimately with Ram. Arjun had surrendered and so did Hanuman. Why is it that we worship Hanuman while we don't really worship Arjun?"
I glanced at her beautiful reflective face in the light of the twilight. Apart from my relationship with her, she was a powerful and divine experience that I had been witnessing since my birth. I have never seen a single soul who didn't feel lighter and more peaceful in her presence. I have known none who hates her. People love her for her mere presence infuses such strong sensation of peace and comfort in them. Her eyes are always filled with compassion and a powerful detachment is reflected in almost all her actions.
I said, "You tell me." She replied, "Because Hanuman never questioned Ram's words." This was something she had read somewhere. But hearing it at that pristine moment calmed something inside me.
Time and again, we say that we love our Master/Isht but the moment we are given something we don't like or haven't asked for, we start questioning the very words, the very authority of our Master and/or Deity. Questioning might be a sign of an inquisitive mind and asking the right question to the right person can be transformational. King Janak had asked the right questions to Ashtavakra and he was blessed with Bramh-Gyaan (Ultimate Wisdom of the Divine). This is not the inquisitive questions we are talking about.
The basic difference between mortal love and Divine Love is Surrender. While mortal love can or cannot be based on surrender, but the very essence of Divine Love is absolute surrender. We may accept it or not. It may come with time or if we are lucky enough, it may dawn upon us right from the beginning. But surrender is the core of Divine Love.
Gopis could have been jealous of each other for Krishna blessed every Gopi equally with His Love. But they never questioned Krishna's way of Loving. Ramkrishna suffered fatally from cancer but not for once did he say, "Oh! Mother, I am your son. How could you do that to me!" Jesus never complained when He was being crucified. He could have said, "If I am the son of God, why do I have to bear this deadly pain!" Instead all He said was, "Father, forgive them, for they donot know what they are doing." Guru Teg Bahadur was made to sit on burning hot tavaa while sultry sand was poured on top of him. With a body full of raw blisters, he was then dipped in icy cold water. All this while, amidst this inscruciating pain all he said was, "Tera kia meetha laage!" (Whatever you do to me, it feels sweet). This is Divine Love.
Hanuman's surrender was devoid of any questions. And absolute surrender is the hallmark of Bhakti; surrender not just when the tide is in our favour but also amidst the gravest of pain. After all, love is nothing of its not absolute surrender to your beloved.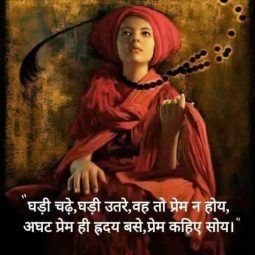 The love that engulfs in one moment while it leaves you in the other, cannot be termed as Love. Only when the emotions don't fade with time and situation, understand it as Love.
---