There are ten Gurus of Sikhs and Sikhs worship them.I am going to share about the tenth Guru,Shri Guru Gobind Singh Ji and his brave sons.
Guru Gobind Ji had four sons and we call them Sahibzadas.They were Sahibzada Jujhar Singh Ji,Sahibzada Ajit Singh Ji,Sahibzada Zorawar Singh Ji and Sahibzada Fateh Singh Ji.Zorawar Singh Ji was 9 years old and Fateh Singh Ji was 5 years old.The name of their grandmother was Mata Gujri Ji and two younger Sahibzadas were closely attached to their grandmother.All the teachings were given to them by their Grandmother.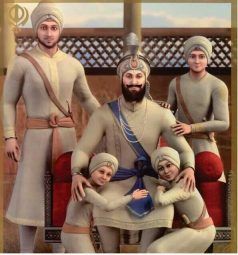 It was a happy family.All the four brothers used to love each other unconditionally.Whenever two elder brothers used to compete in horse racing,the younger brothers used to watch them keenly.The elder brothers had learnt gatka (sword fighting) also.The younger brothers used to follow their elder brothers.The elder sons of Guruji had learnt all the techniques to fight in the battlefield.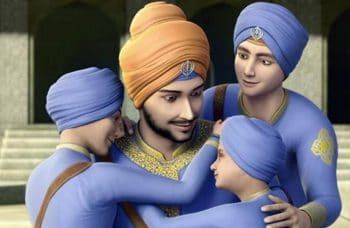 Guruji used to live in Chamkaur Sahib Fort with his entire family including all the Singhs.Guru Ji used to help the people residing over there.Wazir Khan, a Mughal and a governor of Sirhind used to oppress people and he wanted to forcefully convert all the Hindus and Sikhs to Muslims.But GuruJi was against this.Thats why people started joining Guruji.Wazir Khan could not tolerate this.Wazir Khan had already lost many battles against GuruJi.He was in no mood to give up.Now his only aim was to kill GuruJi.He left no stone unturned to fulfill his goals.He appointed Painde Khan to kill Guruji.Painde Khan challenged GuruJi in the battlefield.He wanted to have one on one fight without soldiers.He asked GuruJi to initiate an attack.But Guruji told him that Khalsa Sikhs never initiate an attack.Then Painde Khan shot an arrow towards Guruji but GuruJi averted the attack with his sword.Then Guruji remembered Waheguru and  shot the  arrow and it crossed Painde Khan.Painde Khan died there.And all his soldiers ran away and left the battlefield.
Wazir Khan got to know about Painde Khan 's death and this left him agitated.Now Wazir Khan requested the Kashmiri Pandits to join him against Guruji.After thinking much,they accepted his proposal.When GuruJi was in his fort,Wazir Khan initiated an attack and with thousands of soldiers he marched towards the fort.Singhs of Guruji went to stop them.The battle went on for six months.Wazir Khan was adamant.The famine effected the soldiers of Wazir Khan.On the other side,there was scarcity of food in the fort.The winter started.When there was very little food left in the fort for Singhs, they decided to leave the fort.Hundred Sikhs requested Guruji to allow them to leave.Guruji agreed and told them to leave but before leaving they had to imprint their thumb impression on the paper on which it was written that  Guruji would no longer be their Guru and they would not be his Singhs.40 of the Singhs left the fort after doing so but 60 did not leave the fort because their conscience did not allow them.
When Wazir Khan saw the Singhs leaving,he thought they were leaving GuruJi  because they were scared so he did not attack them.
Wazir Khan could not wait anymore so he sent a message to Guruji that he swore by the name of God  if GuruJi would leave the fort he would not touch a single Singh and they could go anywhere they want.On the request of his Singhs,GuruJi agreed.GuruJi with his family and Singhs started to leave the palace.Wazir Khan came to know this.Wazir Khan said what would he do with  bricks of Fort,he wanted GuruJi so he sent the message so that Guruji comes out of the fort and he could attack him.
I will continue from here,stay tuned.
Thank you
Live,Love,Laugh.
Yours Ripandeep ❤️
---