Sati, consort of Lord Siva had smouldered herself in the agni-kunda during the great sacrifice organised by Lord Daksha, her own father. She had been wishing for more than a million years to get rid of her body owing to one honest mistake. Was her act of burning a promise to Lord Siva? Or a remorseful deed? Was Sati a part of the multiverse where every action had a reaction? All we know is she immolated herself due to reason that her husband was uninvited to the Great Sacrifice by her own father, who thought of Siva as unsophisticated. But was this the only reason behind such an inordinate action? Let me narrate you an excerpt from Ramcharitmanas wherein this story has been expounded, unknown to us, a secret which has been a part of an open book which everybody reads but hardly ever comprehends.
Sri Hari had to impose himself as King Rama, Lord of the Raghus to order to drive away and obliterate the evil from the face of Earth. During his last phase of exile, Sri Hari, the storehouse of wisdom and the dispeller of sorrows with his Lotus Feet had recently faced the unmistakable signs of grief born of separation from his consort, Sita. As the great canon explains, during this phase, Lord Sankara along with his consort had been visiting Sage Agastya and had come to know about Sri Hari as Lord Rama. Siva, in his devout attention called the mortal king the Ocean of love and beauty, to which Sati felt a sense of disbelief. Sati, disconsolate at heart, was clueless behind her Lord's word of adoration for a mortal. She wanted to know the reason. Siva being Siva gave her the honest reply to which she stayed unperturbed. She took the form of Sita and started walking beside Lord Rama in the jungle.
Lord Rama, repository of knowledge and fountain of wisdom did not fall a prey to Sati's form as Sita and asked Sati whereabouts of Lord Sankara with pure devotion. Sati was tongue-tied. She felt an upsurge of emotions, a mixed bag of emotions. She quickly did what she felt she should and left for her abode. Her anxiety could neither be gauged nor described while standing beside her sagacious husband. She felt torn into pieces which could not be sewed together even if she tried. A great tumult dawned in her heart and she had an inkling what her future held.
Lord Sankara, with self-restraint and calm and composed mind heard what Sati had to say and explain. She apologised deeply for her wrongful deed which she felt right during that moment. Sankara was not at all disturbed with what she did but he was immersed in something completely opposite.
Siva, the Lord of Kailasa, had a religious fervour for Sri Hari and his consort Laxmi. Being Sri Hari in the form of Lord  Rama and Laxmi being Sita, Lord Siva made a decision which changed the lives of many. Siva heretofore decided that he would not be able to keep any marital relations with Sati because Sati once tried to become an imposter of Sita, the consort of Lord Rama therefore Sati has also become a part of Sita, hence, no conjugal relations with Sati. It was easy to decide but unimaginable to follow, Siva entrapped himself in a trance keeping in his mind the vow he had taken in his mind. Imagine Siva sitting in a trance for almost 87000 years and Sati had no clue about this vow but the sense of grief could not leave her. She felt an interminable series of doubts for quite a long time which is when she decided to pray with her heart and soul to get rid of the body which is of no use to her if her Lord does not want her to be a part of his life anymore.
Eventually, her wish was fulfilled when Sati, consort of Siva immolated herself in her father's agni-kund, leaving the imprints of her act.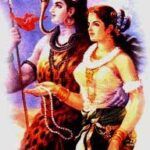 ---